More Pain Ahead Once You've Opened Pandora's Box: Taking Stock
(Bloomberg) -- (Bloomberg News has renamed the European Equity Pre-Market column Taking Stock. It will appear every trading day at the same time as the previous column.)
Euro Stoxx 50 futures are down 0.3% after the S&P 500 stabilized and ended last Friday's session in the green, although it showed no sign of a rally. Asian equities have resumed their fall with the Hang Seng and the Nikkei down in excess of 1% as China-U.S. tensions did not seem to ease and leaders at the IMF talks in Bali raised their concerns.
Tensions escalated between the U.S. and the Kingdom of Saudi Arabia over the disappearance of journalist Jamal Khashoggi. Saudi stocks tumbled while oil rose 1.5% on anticipated impact on supply. Brent is now trading above $81. Watch for any impact on oil companies like Total, BP, Shell, Eni.
Recent analysis of the volatility experienced by the market might be suggesting the bottom is near, the technical behavior of the S&P 500 this week will likely set the tone, while Barclays strategists are still anticipating more selling in U.S. equities. A defensive stance is emerging as the equity risk-reward has become less favorable given late-cycle signals and the Fed on a path to a more restrictive policy. In fairness, looking again at the price action on the Euro Stoxx 50 futures, the small bounce from Friday seemed unconvincing and volumes were far from impressive, hinting that buyers are not yet back.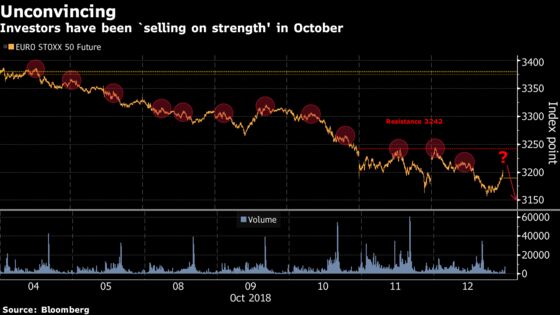 Talking about selling, short sellers seem to have missed out on the recent equity rout with the overall level of bearish bets against European equities at its lowest in 30 months, according to Markit. This is understandable in some way, given the recurrent argument about how European equities are cheap, especially versus their U.S. counterparts. Unfortunately, the latest sell-off has been completely U.S. driven (hawkish Fed, rising 10y yields, trade spat, technicals), and when U.S. equities dive, they take European ones with them.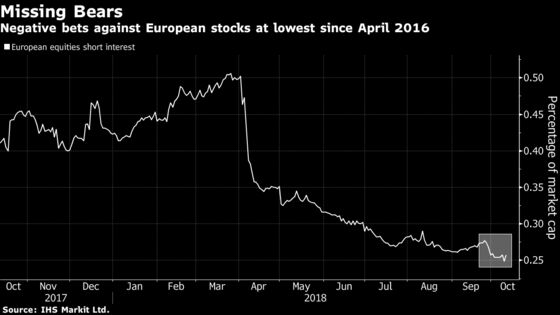 Still, there are some stocks that keep attracting short sellers, we had mentioned how gamblers on Casino or H&M cut their shorts a few weeks ago, and a similar thing is happening with Danish jewelry maker Pandora. The stock was up a staggering 9% on Friday, after a 6.7% jump the day before. About three million shares changed hands during those two days, which is about half the quantity short. There may be more to come.
Elsewhere, Brexit talks have grabbed the headlines over the weekend, with the European leaders considering holding a crisis summit in November to draw up contingency plans in case the U.K. crashes out of the bloc without a deal. The last attempt to clinch a common ground on Sunday got nowhere and sent the pound back to $1.31. Still in the U.K, there might be some move on the battered homebuilders and estate agents with the release of Rightmove house prices, which showed signs of rebound in the London property market.
In Italy, a mounting disagreement between Matteo Salvini and Giovanni Tria about buying-out Alitalia may derail the coalition. Il Messaggero reported the increasingly isolated finance minister could be replaced in January. Italy and other EU countries are due to send their final budgets to the EC for approval today. Finally, in Germany, the historic defeat of Angela Merkel's allies in Bavaria is threatening the stability of the coalition, another European woe to keep in mind as it develops.
"A combination of factors, including extreme imbalances in positioning, has led to a sharp correction in equities in recent days," Credit Suisse Global Chief Investment Officer Michael Strobaek wrote in his investment strategy. "We put the sell-off into perspective and explain why we should see a positive environment for risk assets going forward. We would not rush back into markets at this point, but rather add exposure gradually and focus on areas where value is best, in our opinion in emerging markets."
NOTES FROM THE SELL SIDE:
Citi raised Lundin Petroleum to neutral and ended its relative value preference for Aker BP over Lundin after the gap narrowed. The bank sees "absolute upside" to Lundin PT of SEK292 after sell-off.
Hudson River Trading, one of Europe's biggest equity traders, picked Dublin to be its base in the European Union once the U.K. leaves the bloc next March.
Initiative to look at how Barclays could incorporate the trading of digital assets into its markets business has been put on ice, Financial News reports, citing unidentified person familiar with the situation.
Ceconomy CEO Pieter Haas stepped down, following investor fury at back-to-back profit warnings from Europe's biggest consumer-electronics retailer.
Watch Shares in Oil & Gas Companies Amid Saudi Tensions
Watch Homebuilders As Better London Data May Be Offset by Brexit
Chr. Hansen Fourth Quarter Adjusted Ebit 1.2% Above Estimates
Glencore to Cut About 430 Jobs at Hail Creek Coal Mine
Shoe Zone Sees Profit Ahead of Expectations, Plans Special Div.
Greencore To Sell Entire U.S. Business to Hearthside For $1.08B
IQE Appoints ARM's Tim Pullen as CFO Starting Early 2019
BME in Talks With Banca March to Acquire Inversis Banco: Cinco
Spanish Firms Hit by Argentine Inflation, EL Confidencial Says
French Judges Seized 4 Former Lafarge Execs Compensation: Radio
Nordea to Continue Investing in Danske, Borsen Says
Abengoa Builds Provisions for Saudi Project Loss: Confidencial
Accor to Reorganize Ops in Europe by Yr End: Les Echos
FACC First Half Ebit EU25.1 Mln
Clas Ohlson Sept. Sales Increased by 6% Versus Same Period Y/y
Protector Forsikring Will Book a Significant Reserve Loss
NZ Regulator Defers Decision on Ingenico-Paymark Deal to Nov 2v
Marine Harvest Third Quarter Ebit Beats Estimates
Centrica Unit to Buy Retail Business of Source Power & Gas
Getinge Makes SEK 1.8B Provision for Product Liability Claims
Barclays to Offer U.S. Current Account: FT
Deutsche Post May Cut 1,400 Jobs, Bild Am Sonntag Reports
U.K. Homebuilders May be Pressured by Proposed Cap on Leases
Total in Talks to Buy Stake in Adani LNG, City Gas Projects: PTI
Aareal Bank Targets Further Acquisitions: Euro Am Sonntag
Pandox Buys Midland Manchester Hotel
Norsk Hydro Invests in 2 New Extrusion Presses in North America
TECHNICAL OUTLOOK for Stoxx 600 index:
Resistance at 362 (March low); 365.1 (38.2% Fibo)
Support at 353.2 (50% Fibo); 341.2 (61.8%)
RSI: 22.5
TECHNICAL OUTLOOK for Euro Stoxx 50 index:
Resistance at 3,262 (March low); 3,274 (Sept. low)
Support at 3,194 (50% Fibo); 3,072 (61.8% Fibo)
RSI: 26.2
MAIN RESEARCH AND RATING CHANGES:
UPGRADES:
GN upgraded to buy at HSBC; PT 351 Kroner
Lundin Petroleum upgraded to neutral at Citi
Siemens Healthineers upgraded to buy at HSBC; PT 39.50 Euros
Thule upgraded to hold at SEB Equities; PT 190 Kronor
RWE downgraded to add at AlphaValue
Engie rated new outperform at Bernstein
Hunter Group rated new buy at Pareto Securities; PT 5.10 Kroner
Okeanis Eco Tankers rated new buy at Pareto Securities
MSCI Asia Pacific up 1.5%, Nikkei 225 down 1.8%
S&P 500 up 1.4%, Dow up 1.1%, Nasdaq up 2.3%
Euro down 0.02% at $1.1558
Dollar Index up 0.07% at 95.29
Yen up 0.22% at 111.96
Brent up 1.1% at $81.3/bbl, WTI up 0.8% to $71.9/bbl
LME 3m Copper down 0.2% at $6291/MT
Gold spot up 0.4% at $1223.2/oz
US 10Yr yield down 1bps at 3.15%
MAIN MACRO DATA all times CET:
9:30am: (UK) Bloomberg Oct. United Kingdom Economic Survey
10:30am: (IT) Aug. General Government Debt, prior 2.34t