Moonpig, Shareholders Seek as Much as $524 Million in London IPO
(Bloomberg) -- Online greeting-card retailer Moonpig Group Plc and its shareholders plan to raise as much as 384 million pounds ($524 million) in an initial public offering in London, part of a rush of European companies looking to capitalize on robust stock markets and pandemic-fueled sales growth.
Moonpig is marketing as many as 113 million shares at 310 pence to 350 pence apiece, according to terms seen Tuesday by Bloomberg News. The sale could value the company at 1 billion pounds to 1.2 billion pounds after the IPO.
The bulk of the proceeds, up to 364 million pounds, will go to selling shareholders including Exponent Private Equity Partners. The company, which owns the Moonpig brand in the U.K. and Greetz in the Netherlands, is raising 20 million pounds in the offering to pay down debt.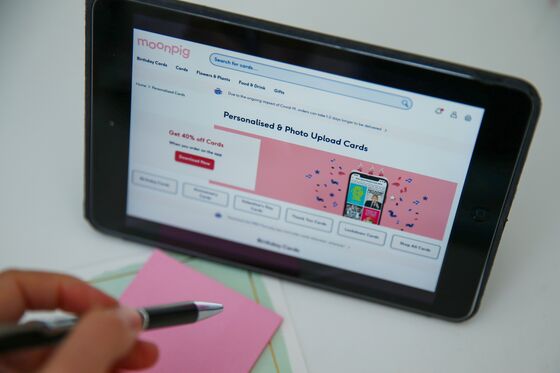 The offer period will run through Feb. 2, with the new stock slated to start trading the next day on the London Stock Exchange. The company said that it expects to be eligible for inclusion in the FTSE U.K. indexes after it lists.
Two fund managers, BlackRock Inc. and Dragoneer Global Fund II LP, have agreed to invest 80 million pounds and 50 million pounds, respectively, in the IPO at the offering price, according to the terms.
The deal comes amid a resurgence in IPO activity in London, with the market off to the strongest start to a year since 2008 after a Brexit agreement cleared uncertainty for domestic firms. Permira Holdings-backed Dr. Martens is also prepping a London listing.
A number of beneficiaries have cashed in on the online shopping boom sparked by coronavirus-induced lockdowns with IPOs in recent months. Polish postal locker provider InPost SA's shareholders are taking the firm public in Amsterdam, while e-commerce companies THG Holdings Plc and Allegro.eu SA listed last year.
Existing shareholders of Moonpig can sell another 11 million shares if there's enough demand, which would boost the total deal size to 422 million pounds, the terms show.
Citigroup Inc. and JPMorgan Chase & Co. are joint global coordinators, while HSBC Bank Plc​​​​, Jefferies International Ltd. and Numis Securities Ltd. are joint bookrunners.