Monster Momentum ETF Sees Biggest Cash Inflows Since Record High
(Bloomberg) -- Investors haven't been this bullish on the largest momentum exchange-traded fund since the strategy was actually working.
The $8.6 billion iShares Edge MSCI USA Momentum Factor ETF, ticker MTUM, took in more than $132 million last week, the most since it hit a record high at the start of October. While the strategy -- basically betting that the best-performing stocks will continue to outperform -- is up almost 10 percent this year, it's lagging the S&P 500 Index's near 11.5 percent rise and is still a sizable distance from its all-time high.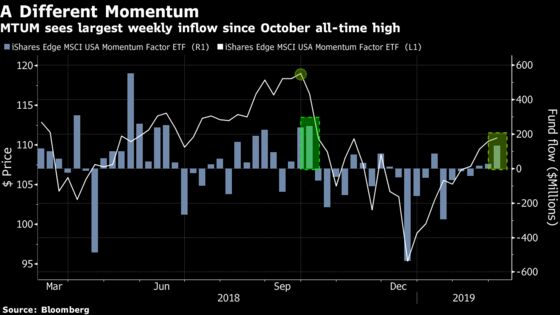 After an ad hoc January rebalance, MTUM looks much different than it did before the market meltdown that closed out last year. As it stands, more than 30 percent of the fund is allocated to health-care companies -- this year's worst performing sector. Consumer staples, technology, and financials are the next largest holdings, each amounting to somewhere between 13 and 14 percent of the fund.
"It may seem odd to be buying momentum in what most think is a late-cycle rally, but MTUM has been rebalancing into much more defensive names lately and that may be the appeal," said Eric Balchunas, an analyst for Bloomberg Intelligence. "Momentum is not growth or tech, but rather a chameleon."