Wall Street Rush to Safety Is Biggest Since Lehman Brothers Collapse
(Bloomberg) -- Investors haven't been this bearish since the collapse of Lehman Brothers. At least that's what their positioning is signaling, according to Bank of America Merrill Lynch strategists.
Over the past six months, money market funds attracted $322 billion of inflows, the largest flight to safe assets since the second half of 2008. In similar fashion to 2007 and 2008, investors raised their cash holdings despite falling interest rates.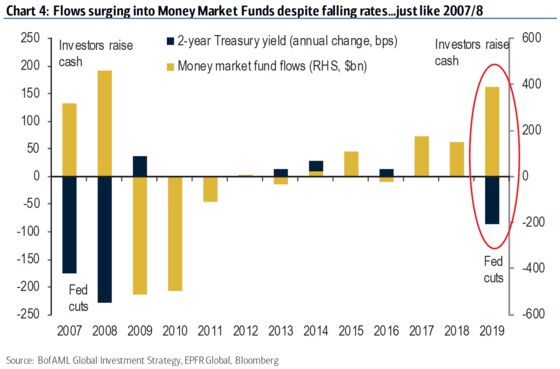 Strategists led by Michael Hartnett wrote in a note on Friday that investors are suffering from "bearish paralysis," driven by unresolved issues such as the trade war, Brexit, the Trump impeachment investigation and recession fears. Just in the seven-day period ending Oct. 9, investors continued to exit equity funds globally, with outflows reaching $9.8 billion, according to the strategists who cite data from EPFR Global. By contrast, bond funds enjoyed $11.1 billion of inflows.
Despite this wall of worries, the BofAML strategists have an "irrationally bullish" contrarian view, driven by the "bearish positioning, desperate liquidity easing, and 'irrational contagion' from bond bubble to equities." After Greece auctioned negatively yielding bills and the U.S. auctioned record low-yielding 30-year government bonds this week, they see the current positioning in bonds delaying a global recession, which should drive further equity performance.