Treasuries Flatten as Traders Price Three Fed Hikes for 2022
(Bloomberg) -- Yields on shorter-dated Treasuries rose and U.S. money markets shifted to price in three quarter-point increases in the Federal Reserve's policy rate by the end of 2022 following the latest decision by officials.
Overnight index swaps tied to meeting dates of the U.S. central bank's policy committee moved to higher rate levels, with the level on the contract corresponding to the December 2022 meeting at one point reaching more than 83 basis points -- 75 basis points higher than the effective federal funds rate of 8 basis points -- before slipping slightly to around 82.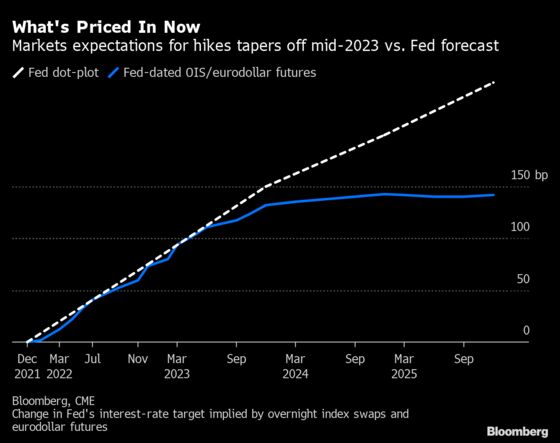 The Treasury curve flattened as front-end rates leaped, with the three-year yield up as much as 6 basis points to 1.03%. The widely watched 2-to-10 year yield curve was around 3 basis points narrower while the 10-year benchmark added 2 basis points to 1.46%. The greenback jumped, before paring gains, while U.S. stocks climbed. Breakeven rates on inflation-linked debt, a proxy for expectations on consumer prices, maintained their decline.
"The market reaction so far is a vote of confidence in the Fed being more aggressive with rate hikes next year," said George Goncalves, head of U.S.macro strategy at MUFG in New York. "The Fed is front loading the rate hike cycle next year and saying that they will control inflation and extend economic growth."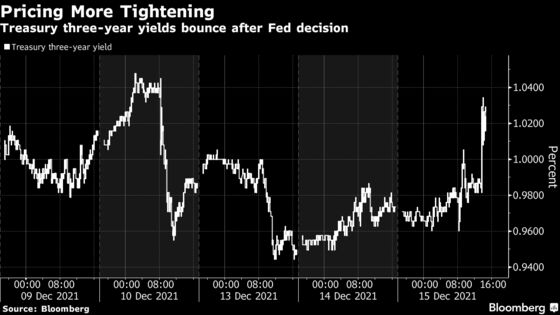 Projections published alongside the Fed's statement showed officials expect three quarter-point increases in the benchmark federal funds rate will be appropriate next year, according to the median estimate, after holding borrowing costs near zero since March 2020.
That marks a major shift from the last time forecasts were updated in September, when the committee was evenly split on the need for any rate increases at all in 2022. The new projections also showed policy makers see another three increases as appropriate in 2023 and two more in 2024, bringing the funds rate to 2.1% by the end of that year.
Fed officials also intensified their battle against the hottest inflation in a generation by shifting to an earlier end of their asset-buying program and signaling they favor raising interest rates in 2022 at a faster pace than economists were expecting.
Chair Jerome Powell will comment on the decision at his press conference this afternoon.