Money Is There When U.S. Oil Refiners Are Ready to Make It Again
(Bloomberg) -- After months of being battered by a demand-killing pandemic and then a rare Gulf Coast freeze, U.S. refiners are being greeted with the best margins on turning crude oil into gasoline and diesel since the summer of 2019.
The last two weeks saw a record-setting draw in U.S. gasoline stockpiles and the addition of nearly 25 million barrels of crude oil, government data show. The result is an opportunity for refiners to capitalize on the best margins since August 2019, excluding the April 2020 anomaly when crude futures fell below zero. The value of gasoline, diesel and other refined products relative to crude oil, known as the 3-2-1 crack, surged above $20 a barrel this week.
The higher margins come after the yearlong pandemic forced fuel makers to lower operations to deal with the ensuing demand fallout. Last week, refiners boosted crude inputs by a record amount as they restarted from the storm while the rolling average for gasoline demand surpassed 8 million barrels a day for the first time since November, according to the Energy Information Administration.
"You are seeing the continued recovery of the refining system from the deep freeze," Houston oil analyst Andy Lipow said. "I would expect it to maybe take another couple of weeks. And as a result of these draw downs on gasoline and diesel, I am bullish" on gasoline margins for the next few months.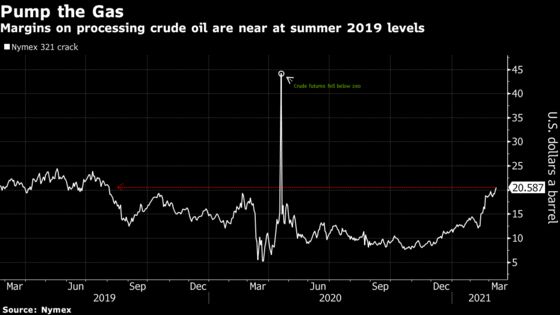 U.S. Gasoline Demand Rises to Highest Since November: EIA
Refiners added 2.4 million barrels a day of crude in the week ending March 5, a record increase in data going back to 1982, according to the EIA. Still, crude inputs are more than 2 million barrels a day below the rate just a month ago before the freeze and power failures idled 18 Texas refineries.
Eight of those 18 refineries that shut all or part of their operations during the freeze have restarted all affected units, putting a potential 2.24 million barrels of capacity back in operation. Of the 10 still trying to restore production, three have not restarted any units.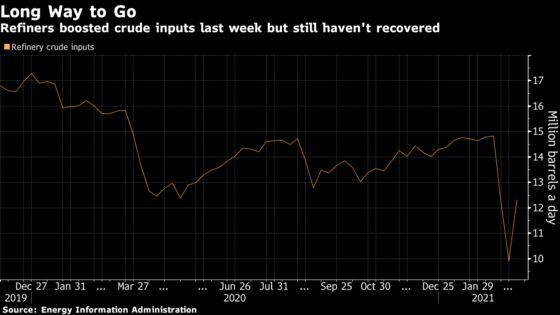 After 12 months of refiners cutting rates as they lost money because of the pandemic, it remains to be seen if margins and demand are strong enough to motivate them to run at full rates. It's still more than two months before the demand-boosting summer driving season starts with the long Memorial Day weekend in May.