Money-Fund Rules in Crosshairs Again As Boston Fed Takes Aim
(Bloomberg) -- The drumbeat for change to rules surrounding money-market mutual funds may be growing, with U.S. central bank official Eric Rosengren on Tuesday once again taking aim on the subject.
Money funds "failed again" during the coronavirus-related market upheaval that took place earlier in the year, and there needs to be a focus on reforming the rules that govern them, the Federal Reserve Bank of Boston president said Tuesday. He said it was prime funds -- those which are able to invest in non-government-backed instruments -- "that were the problem" and that the situation surrounding money funds is "quite disturbing."
U.S. money-market funds -- which provide a lot of the cash that companies and governments borrow on a short-term basis -- underwent a major regulatory overhaul in 2016 to prevent a repeat of a damaging run on these funds that took place during the 2008 meltdown. But a coronavirus-related exodus of cash earlier this year from prime funds showed that this risk remains. That has some, including Rosengren, suggesting that further tweaks may be warranted.
The Fed official went further during an online event hosted by the Harvard Kennedy School on Tuesday, saying his "personal preference would be not to have prime money funds" for either individual or institutional investors.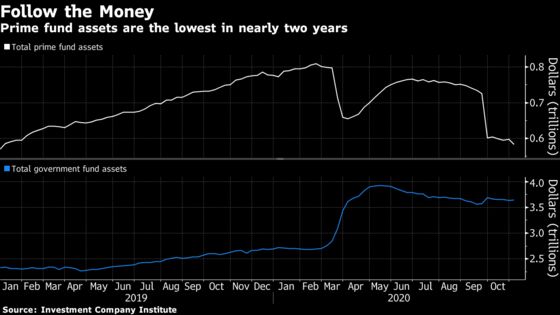 Rosengren has been at the center of bailing out money markets since 2008 when the Boston Fed launched the Asset-Backed Commercial Paper Money Market Mutual Fund Liquidity Facility, or AMLF, in the wake of the crisis that rocked the global economy that year. In March this year, the Boston Fed also spearheaded the Money Market Mutual Fund Liquidity Facility, or MMLF, a facility that offered a backstop for prime funds.
While these measures helped stabilize money markets, prime funds have continued to shrink. Total assets have collapsed to the lowest level in nearly two years and the decision by Fidelity and Vanguard to exit institutional prime funds in recent months has dealt the industry a further blow.
Rosengren said the presidents of the regional Federal Reserve banks did not get the outcome they were hoping for in the wake of the 2008 crisis and that some of the measures put in place by the Securities and Exchange Commission actually encouraged investors to pull funds out more quickly.
The actions taken made matters "worse, not better," he said. "We need to really refocus on what assets are appropriate to have immediately accessible for individuals and really think about the regulatory construct a little more carefully this time."
Related Stories
Plight of Prime Money-Market Funds Draws Regulators' Attention
Dearth of Dollars Exposes Flaws in Rebooted Money-Fund Rules
Fidelity to Drop Prime Institutional Money Funds in August
Vanguard Converts $125.3 Billion Prime Money-Market Fund
Prime Funds Assets Hit Lowest Since Early 2019: Liquidity Watch
Money Markets Have a $750 Billion Problem in Zero-Rate World