Li Ning Swings Most Since 2015 in Hong Kong's Latest Odd Move
(Bloomberg) -- Unusual trading patterns in Hong Kong stocks are becoming more frequent -- with Chinese sportswear maker Li Ning Co. being the most recent to fluctuate dramatically.
The stock surged 7.7 percent in the first few minutes of Monday's session as more than a million shares changed hands, before rapidly giving up gains. The morning surge sent share prices to a more than seven-year high, but by late afternoon they'd dropped as much as 6.1 percent. The stock's 14.5 percentage-point swing was its biggest intraday move since mid-2015.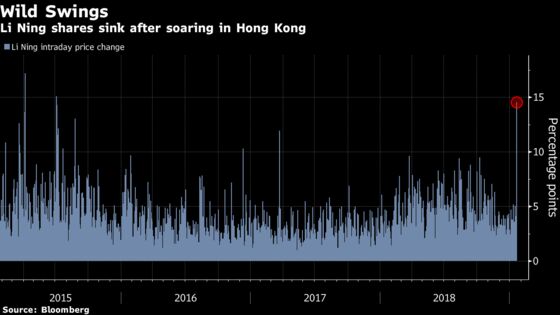 A Chinese lender sank as much as 41 percent on Friday in Hong Kong, a day after at least 10 companies tumbled 20 percent or more, wiping out HK$37.4 billion ($4.8 billion) in market value. Many of those companies have since recouped some of their losses. Trading links allowing mainland investors to trade Hong Kong equities have been blamed for aggravating volatility in individual stocks.
Li Ning, named after its Olympic gymnast founder, has become one of Hong Kong's hottest stocks in the past three months amid bets that Chinese consumers will buy more fitness gear as the government encourages physical exercise. It was listed among Citigroup Inc.'s top consumer companies to own in 2019, with analysts citing its strong branding and new products.
Some "Chinese national pride" should also help fend off increasing competition from international rivals, Citigroup analysts led by Xiaopo Wei wrote in a note last week.
Li Ning had higher turnover than German rival Puma SE every day last week, according to data compiled by Bloomberg. With a 14-day relative-strength index that topped 77 on Friday, it was by that measure the fourth-most overbought stock on the 494-member Hang Seng Composite Index. Mainland investors can trade the shares via an exchange link with Shenzhen.