Moncler Joins Luxury Rivals in Taking China Coronavirus Hit
(Bloomberg) -- Moncler SpA, the Italian maker of trendy down jackets, is the latest luxury company to feel the effects of the deadly coronavirus, echoing comments from peers including Canada Goose Holdings Inc. and Burberry Group Plc.
While Milan-based Moncler has taken "significant and urgent" measures to deal with the epidemic -- including postponing some projects and investments -- it's difficult to forecast the effects on 2020 results, the company said on Monday.
The shares fell the most in five months before paring declines. Moncler dropped as much as 5.6% in Milan, and traded down 2.4% as of 11:52 a.m., making it Tuesday's worst performer on the FTSE MIB benchmark index.
Moncler is seeing a heavy impact on China sales from the virus and new openings in the country have been postponed to the second half of the year, Chief Operating Officer Roberto Eggs said on a call.
Moncler said one-third of its shops in China are closed and shopper numbers have plunged 80% since the virus emergency started.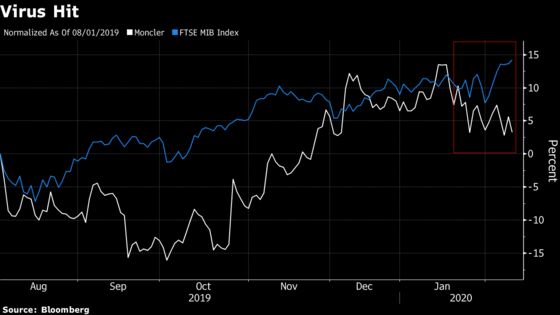 Read more: Moncler Plans Boost to Voting Rights to Give Ruffini Stability
"We treat this headwind as temporary in nature," Morgan Stanley wrote in a note on Moncler, noting that "management's message in the conference call suggested that the effects of this outbreak could be material in Q1."
"We would use any weakness from the virus as a buying opportunity" for Moncler shares, Evercore ISI wrote in a note.