Chart Suggests the Next Bitcoin Bull Run On the Horizon
(Bloomberg) -- Bitcoin bulls are looking at new technical signals in hopes that the cryptocurrency reverses its recent slump and starts pushing higher.
Based on an analysis of RIG trend lines, a leading technical indicator that is a combination of the RSI and momentum studies, the momentum gauge crossed the relative strength index (RSI) gauge, which could be indicating a positive price movement is on the horizon. Bitcoin's price rose the past three times the two gauges crossed.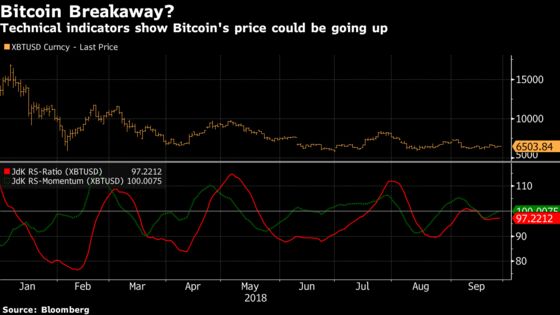 This is the fourth time the momentum gauge crossed the RSI gauge this year; each was followed by a rise in Bitcoin's price. The last time this occurred, in mid-August, the cryptocurrency's price rose by 21 percent over the next three weeks.
Bitcoin has seen its price decline by more than 50 percent this year, amid a regulatory crackdown and a rejection of Bitcoin ETFs by the Securities and Exchange Commission. The SEC last month dismissed requests to list nine cryptocurrency funds and cited continued concerns about manipulation, among other things. In addition, the rise of investments in marijuana stocks has taken some attention away from Bitcoin, some analysts say, helping to push its price down. Though it hit a high of $19,511 in December, it's currently trading above $6,500. Bitcoin is down 3 percent this week.
The biggest cryptocurrency also last week lingered above a price and trend line and flashed a positive signal that typically forecasts future price moves.