Momentum Funds Shrug BOJ's Bond Tapering With $23 Billion Bet
(Bloomberg) -- Battered by a slump in tech stocks, bruised by the sell-off in oil, it looks like momentum funds have found a new trend to chase - a rally in Japanese government bonds.
Open interest in 10-year JGB futures has risen by almost 17,700 contracts since mid-October with foreign players consistently buying, according to data from the Japan Exchange Group. That's worth over $23 billion and market participants suggest a large part of the demand is coming from momentum investors, sometimes known as commodity trading advisers.
The foreign demand is likely to be mainly trend-following players, who "are less price sensitive as they are going after capital gains", said Masahiko Loo, portfolio manager of fixed income at AllianceBernstein Japan Ltd, in emailed comments.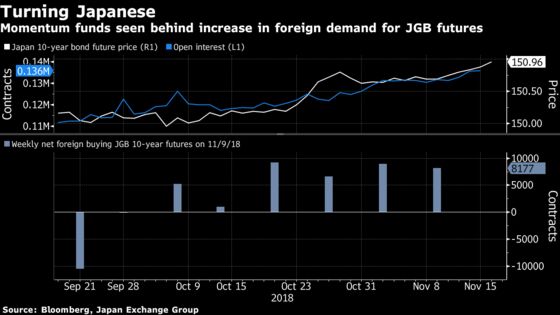 Trend-following funds are scrambling for performance in recent weeks as a number of popular strategies from buying growth stocks to shorting Treasuries reversed. Hedge fund returns fell almost 3 percent in October, the worst performance since September 2011, according to Hedge Fund Research Inc.
Japan's 10-year yield has fallen more than 4 basis points since the middle of last month, with bond futures climbing over 0.5 percent -- the biggest rolling monthly gain in over a year and a half. That's even as the Bank of Japan continues to reduce debt purchases, and benchmark yields are now back at the bottom end of the 10 to 16 basis point range they have traded in since August. The bonds yielded 10 basis points Friday.
"I'm still bearish duration", Loo said, and is inclined "to fade this strength as it's pretty obvious the BOJ's intention" is to steepen the curve through stealth tapering.