Momentum ETF Rebalances at Lucky Moment for Battered Tech Shares
(Bloomberg) -- A big BlackRock Inc. ETF rebalance couldn't have come at a better time for some beaten-up technology shares. Whether it can stop the bleeding is another question. 
The $17 billion iShares MSCI USA Momentum Factor exchange-traded fund (ticker MTUM) -- designed to buy recent winners and dump the losers -- will likely double its tech holdings to 37% during its semiannual rebalance in coming days, according to data compiled by Wells Fargo & Co. 
Since MSCI Inc. ranks stocks by their returns over a six month- and one-year horizon with calculations typically completed at the prior month-end, the latest tech rout didn't get factored into November's makeover.  
With software and chipmakers sporting some of the biggest gains over recent months through October, trend-followers such as MTUM are obliged to scoop up the stocks to meet their trend-following goals even as the specter of higher interest rates creates anxiety over their stretched valuations.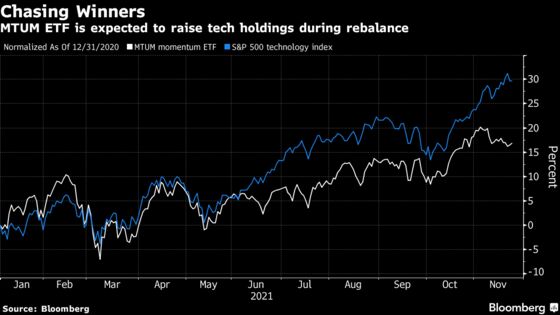 "It's a small near-term positive for software," Chris Harvey, head of equity strategy at Wells Fargo, said in an interview. "But if real rates continue to rise, the macro will win out." 
Should that happen, it might set up MTUM for another stretch of subpar returns. The last rebalance in May saw it switch into financial stocks and ditch big tech, a shift that led to a brief period of underperformance. 
Tech shares, particularly those trading with nosebleed valuations, sold off Monday as the appointment of Jerome Powell for a second term at the head of the Federal Reserve prompted traders to boost wagers for faster rate hikes next year. Once viewed as the haven asset during the pandemic, internet and software shares have become the market's pressure point as the economy reopens, spurring angst over inflation. 
Software makers such as Microsoft Corp. and Adobe Inc. will join MTUM as new additions, according to Wells Fargo. Meanwhile, economically sensitive shares such as industrials and banks, are expected to see their representation drop.  
Overall, an estimated 51% of the fund's holdings will be changed to align with the shift in momentum stocks. While that trails the 68% turnover in May, Harvey notes the level of revisions is "very high" relative to history.
"We know this is a passive portfolio but perhaps passive aggressive would be a more apt description," Harvey wrote in a note to clients. "Factor-wise, the new momentum holdings are expected to be less liquid, indicating transaction costs may be higher during this rebalance. The portfolio would become more expensive, breaking its alignment with value."
The MTUM rebalance will be executed in three tranches, starting at the close of Wednesday's trading and concluding on Nov. 30.