Mom in College Scam Asks for Home Confinement for Fear of Virus
(Bloomberg) -- A Silicon Valley mom who paid $450,000 to cheat her daughters' way into college asked a federal judge to spare her a prison term during the pandemic.
Elizabeth Henriquez is "an emotionally and spiritually broken woman" who fits new U.S. Justice Department guidance that nonviolent first-time offenders with health conditions should serve their time at home during the outbreak of the highly contagious coronavirus, her lawyers argued in a court filing Thursday night.
They asked for five months' home confinement for their client, who will be sentenced by video conference Tuesday. It wasn't clear from the redacted filing what her health condition is.
Federal prosecutors have asked that Henriquez be given two years and two months behind bars, as one of the "most culpable" of 36 parents charged in an admissions scandal that snared top executives and coaches at elite universities across the U.S. The stiffest sentence for a parent yet has been nine months for Douglas Hodge, the former Pimco chief.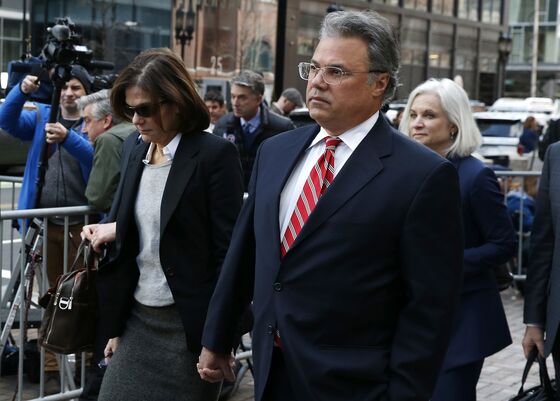 Henriquez and her husband, Manuel Henriquez, the former chief executive officer of the venture capital firm Hercules Capital Inc., admitted last year to paying a $400,000 bribe to Gordon Ernst, then Georgetown University's head tennis coach, to designate their older daughter as a recruited athlete and set up fake athletic profiles for her. The couple paid another $50,000 to rig both daughters' college entrance and subject exams four times. Ernst has pleaded not guilty to racketeering.
Elizabeth Henriquez didn't know until months after she donated money to Ernst that he would misrepresent the teen and didn't approve the fake athletic profile, her lawyers told the court.
The filing comes one day after "Full House" star Lori Loughlin and 13 other parents fighting bribery charges in the case asked that it be dismissed over prosecutors' delay in turning over evidence they say exonerates them. The evidence confirms Henriquez's account that the scheme's mastermind lured her in by promising her money would go to Georgetown's tennis program, her lawyers said.
The U.S. has asked for 18 months for Manuel Henriquez, whose sentencing is set for April 8.