Mom and Pop Are Buying the Dip in Stocks While the Pros Stay Put
(Bloomberg) -- The rift between Wall Street and Main Street is getting wider when it comes to stock investing.
For the third week in a row, individual investors bought stocks while institutional and hedge funds were net sellers, data on client flows compiled by Bank of America showed. Thanks to retail demand, equity buying by all the firm's clients rose last week to the highest level since late May.
While a reflection of only one firm's clients, the data is the latest to show the divided sentiment that has gripped the market in recent months. To some, the latest selloff is another dip that's worth buying with earnings growth running at 20 percent and valuations falling. The others see a congregation of forces that threatens to slow the 9 1/2-year bull market: higher bond yields, slowing profit growth, and persistent political tensions at home and abroad.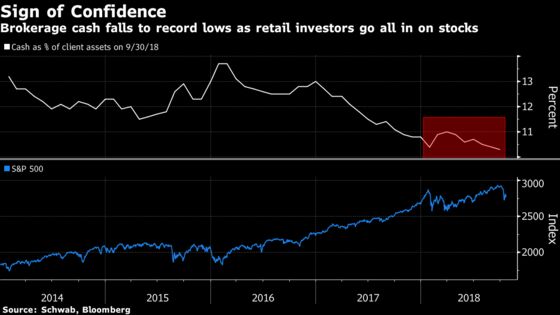 Liz Ann Sonders, chief investment strategist at Charles Schwab & Co., says the tenacious retail buying is a sign the selloff that has wiped out $2 trillion from equity values may keep going until buyers are exhausted.
"I would love to see the individual investors more fearful right now," she said by phone. "It doesn't quite feel yet that we're at the kind of washout point. This probably has more to go."
The S&P 500 fell as much as 2.3 percent Tuesday before slowly erasing almost all of the drop. It ended lower by 0.6 percent, registering the 12th decline in 14 days, as Caterpillar Inc. joined companies such as Fastenal Co. and PPG Industries Inc. in flagging cost concerns. Down 6 percent in October, the index is heading for the worst month in three years.
Amid the losses, bulls were unbowed. BofA's private clients snapped up more than $1 billion of stocks last week, the most since February and the sixth-largest in data going back to 2009.
The buying spree followed a month when individuals went almost all in on stocks. In September, cash as a percentage of assets among Charles Schwab Corp. clients fell to 10.3 percent, the lowest since at least 2004. At TD Ameritrade Holding Corp., client activity jumped last quarter, with average trades per day on the brokerage site surging 50 percent over the past year to 795,000.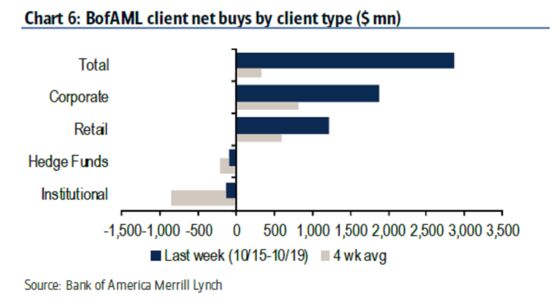 It's "suggesting confidence by retail investors that the bull market isn't over," Jill Carey Hall and Savita Subramanian, BofA's equity strategists, wrote in a note.
The buoyancy is in stark contrast with professionals. Hedge funds and institutional investors have been net sellers on a four-week basis since at least August, BofA client data showed. The split sentiment is a departure from the start of the year, when President Donald Trump's tax overhaul were cheered by almost everyone.