Mining Veteran's $2.2 Billion Palladium Bet to Pay Dividends
(Bloomberg) -- When dealmaker Neal Froneman acquired Stillwater Mining Co. three years ago, critics lined up to say he had overpaid for the palladium producer. Now, his $2.2 billion bet on the metal is set to pay off for Sibanye Gold Ltd. investors.
Sibanye may declare its first dividend in three years in August, Chief Executive Officer Froneman said. It will be a sweet moment for the veteran dubbed "Mr. Fix-It" for his turnaround successes in the 1990s. Froneman's latest renaissance comes after the indebted company lost more than half its value as it was pummeled by strikes and soaring fatalities at its gold mines.
"I don't want to be so bold as to say I told you so," Froneman said in an interview at Sibanye's modest Roodepoort office in western Johannesburg. "We get people apologizing for comments they made a few years ago."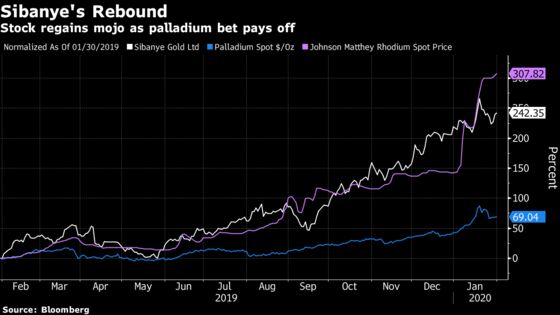 Froneman concedes the rally in palladium has exceeded his expectations. It's helped Sibanye more than triple in value over the past 12 months, trailing only rival Impala Platinum Holdings Ltd. among the best performers on the Johannesburg Stock Exchange. By the end of June, Sibanye will have trimmed enough debt to be in a position to reward shareholders, the CEO said.
"We have de-risked the company -- it's almost done," said Froneman, who will join other executives at the African Mining Indaba in Cape Town next week. "The next opportunity to declare or consider a dividend will be in August."
For the full year, Sibanye will consider a payout equivalent to a minimum of 35% of normalized earnings, he said. The company suspended dividends after piling on debt to pay for Montana-based Stillwater.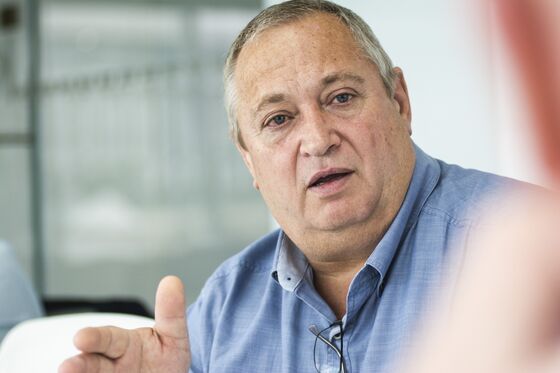 The South African platinum miners attending the conference will have an upbeat story to tell after the benefits from higher metal prices were compounded by a weaker rand that lowers costs. Anglo American Platinum Ltd., which resumed paying dividends in 2017, expects to report that profit more than doubled last year.
Sibanye's debt is now less of a concern to most investors, said Rory Kutisker-Jacobson, a portfolio manager at Cape Town-based Allan Gray Ltd., which holds shares in many of the biggest platinum miners.
"You give credit to Neal, he timed the cycle quite well," Kutisker-Jacobson said. "When he purchased Stillwater, the market punished him, but it turned out to be a good transaction. They have to reduce debt, but they would be paying a dividend in a relatively short period."
As for palladium's white-hot run, Froneman expects the metal to hover around current levels until automakers find ways of substituting it with platinum in catalytic converters.
There isn't a "lot of upside and not much downside either" for palladium, Froneman said. With the current palladium price of about $2,300 an ounce roughly triple the production costs at its flagship Stillwater mine, Sibanye will continue to churn out cash.
Still, Froneman is concerned by the longer-term outlook. With producers unable to easily boost output, there is a risk the supply deficit in palladium will eventually exhaust inventories of the silvery-white precious metal.
"If we don't introduce substitution to address the shortages, you will run short and when that happens it will be a catastrophe for all of us," Froneman said. "There is an urgent need to find a solution, and platinum substitution is a very good alternative for palladium."