Miller Tabak's Maley Says Pullback May Be 'Start of Something'
(Bloomberg) -- Thursday's slump in stock prices is "probably the start of something," according Matt Maley, chief market strategist at Miller Tabak + Co.
"Corrections are normal, they're healthy," Maley said in an interview with Bloomberg TV, noting that it's odd that there hasn't been a 5% pullback in U.S. equity markets this year.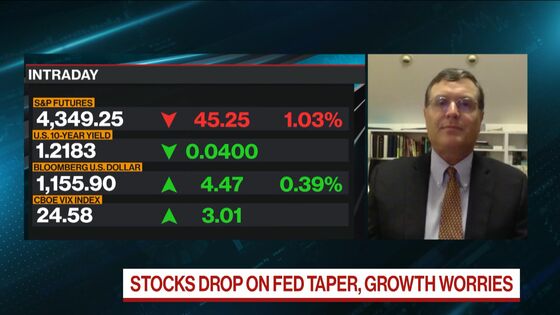 Global equities came under pressure after minutes of the Federal Reserve's latest meeting signaled that that the central bank could start paring stimulus this year. Investors were also concerned about the economic impact of the fast-spreading delta variant of the coronavirus.
Futures contracts on the S&P 500 slipped as much as 1.1% while Dow Jones and Nasdaq 100 futures traded lower too. Meanwhile, the Stoxx Europe 600 Index dropped as much as 2.3%, the most in a month. 
The strategist prefers value stocks over growth for the remaining months of the year, he said, because higher interest rates will make it tougher for technology and other fast-growing companies.