Millenials Are Still Hooked on Freebies in Gulf Nanny States
(Bloomberg) -- The generation that came of age after the Arab Spring is clinging to the perks that helped the richest states in the region dodge turmoil even as their governments now grapple with lower oil prices.
Most young Arabs say it's their government's responsibility to foot the bill for essential needs such as education and housing, according to a survey published this week by Dubai-based communications agency ASDA'A BCW.
The attitude was particularly true of respondents in the Gulf Cooperation Council, comprising six monarchies including Saudi Arabia, where around four-fifths or more want the state to provide benefits ranging from energy subsidies to jobs and health care.
The poll of people aged 18 to 24 also showed that for a second year, the rising cost of living and unemployment were named as the top concerns facing the Middle East. The lack of democracy ranked eighth. The survey is based on 3,300 face-to-face interviews conducted in January in 15 countries in the Middle East and North Africa. It didn't include Syria or Qatar.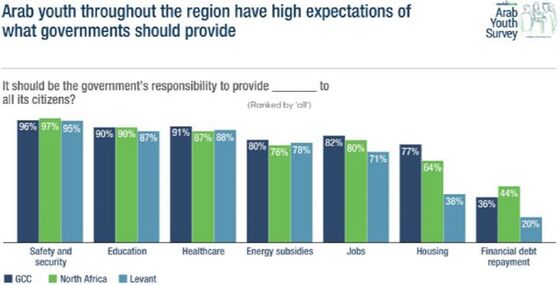 The mindset bred by decades of living in a nanny state has changed little in the four years since the collapse of crude prices forced the leaders in the oil-rich Gulf to lower subsidies and put economic reform on the agenda. Rising populations and the volatile outlook for oil are still pushing governments to tinker with a social contract that underwrote stability in return for citizens' loyalty and having no say in how they are governed.
The balancing act may not be tenable for long if public finances prove no match for expectations and deeply held attitudes about the long reach of the state endure among younger people.
Governments remain employers-of-first-resort, ballooning wage bills that tend to be the biggest spending item in the region. Most nations still provide at least some citizens with a piece of land and an interest-free loan to build a home.
In Saudi Arabia, the region's largest country, nearly 60 percent of its citizens are under 30, meaning the kingdom's labor force could almost double by 2030, McKinsey & Co. estimated in a 2015 report.