Mid-Cap Stocks Still Have Room to Run as 'M&A Effect' Kicks In
(Bloomberg) -- Medium-sized companies have had the best performing stocks since the start of the bull market in March 2009. But is there room for them to keep running?
Logic says yes, as the S&P Midcap 400 Index has lagged both the S&P 500 Index and the Russell 2000 Index for the past few years. And a key factor could be the "M&A effect."
That's the market phenomenon where companies that are deemed potential takeover targets get bid up based on a higher anticipated acquisition price. Many investors see mid-cap companies as a sort of sweet spot for deals, since they've surpassed their infancy and shown their staying power but aren't expensive behemoths yet.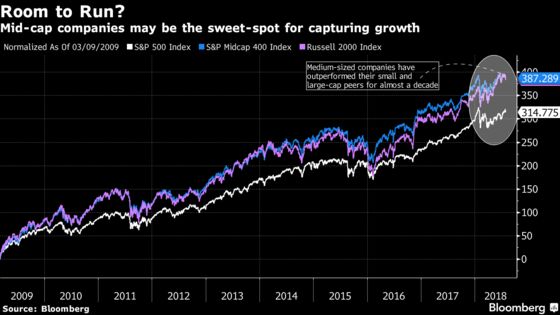 However, there are real risks to playing this strategy with individual stocks. That's where exchange-traded funds come in.
"It's extremely challenging to know which companies will be acquired," said Todd Rosenbluth, director of ETF and mutual fund research at CFRA Research. "A well-diversified approach to mid-cap investing provides the opportunity to have a wide net to catch and benefit from these acquisitions."
The IQ Merger Arbitrage ETF, known by its ticker MNA, tracks companies targeted for a merger or acquisition within the previous 12 months. Since January 2015, the fund has held 38 percent mid-caps and 40 percent small-caps, according to Index IQ data.
To see the M&A disparity even more clearly, the $21 billion SPDR MidCap ETF Trust, or MDY, holds 100 fewer stocks than the $271 billion SPDR S&P 500 ETF Trust, known as SPY, the biggest ETF in the world. However, the smaller fund has seen 10 percent more completed deals since 2009, according to data compiled by Bloomberg.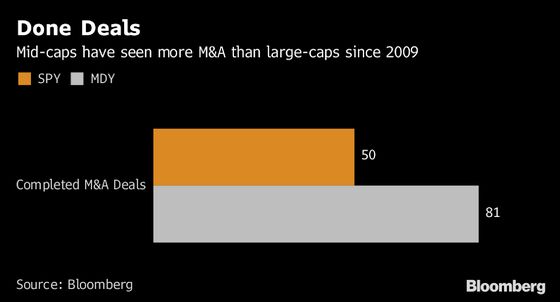 That's always been one of the important reasons "you want to own small," said Sal Bruno, chief investment officer of IndexIQ Advisors.
Beyond M&A, there are other performance enhancers lining up for mid-caps. Faster earnings growth rates, increased capital spending and recent tax cuts are all drivers, according to Gina Martin Adams, chief equity strategist at Bloomberg Intelligence. Smaller companies tend to see faster earnings growth than their large-cap brethren, she said.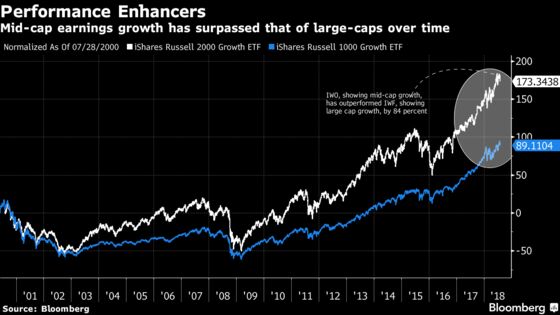 "Earnings growth rates over time are much faster for mid-caps relative to large caps and part of that is probably due to maturity of the businesses," Martin Adams said.
Many investors also believe tax cuts will be a huge contributor to mid-cap growth because the companies will be able to take advantage of the additional room for capital spending, according to Kevin Miller, portfolio manager of the E-Valuator Risk Managed Strategy Funds.
"They're already doing very well relative to their peers over the last six months, primarily because they are the ones that can respond the quickest to changes such as tax reform," Miller said.
Still, despite the bullish outlook for mid-caps, investors are continuing to place more of their bets on large-cap shares. For example, the top 50 stocks in the S&P 500 have surpassed the bottom 450 in representative weight, meaning buyers of S&P 500 funds are primarily holding the biggest companies around. It's a scenario that could be dangerous for their returns.
"There is a perception out there that when you invest in the S&P 500, you're getting broad exposure," said Phil Bak, chief executive officer of Exponential ETFs. "But you're not. We know that smaller caps tend to do better, but the consensus is to take an index and tilt it toward the larger cap stocks, which is completely backward from an expected return standpoint."