MicroStrategy Slips With Bitcoin-Linked Rally Seen Going Too Far
(Bloomberg) -- Shares in business-intelligence firm MicroStrategy Inc have nearly doubled in the past month as investors watch Bitcoin close in on $20,000 and gain widespread legitimacy.
Some, however, are casting doubt on treating the stock like a Bitcoin proxy. The company has rallied as the stock seems "more like an ETF tracking Bitcoin" and less like a traditional software company since it started purchasing the cryptocurrency, Bloomberg Intelligence analyst Mike McGlone said.
During its July conference call, MicroStrategy announced a capital allocation strategy that included returning up to $250 million to shareholders and investing up to another $250 million in "assets which may include stocks, bonds, commodities such as gold, digital assets such as bitcoin or other asset types."
Yet, Nic Carter, a partner at crypto-focused venture firm Castle Island Ventures, said via email that buying the stock was a "very inefficient" way to get Bitcoin exposure, and recommended Greyscale Bitcoin Trust instead. That's because "$1 invested in MicroStrategy gets you exposure to 23 cents of Bitcoin."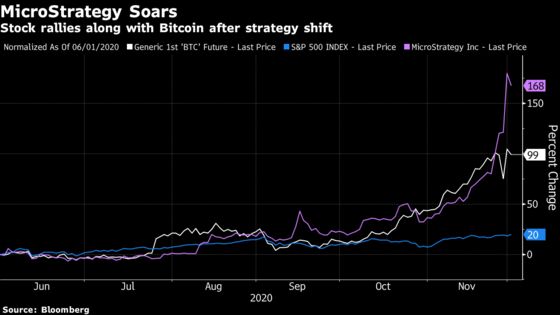 Carter said MicroStrategy holds 38,250 Bitcoin, with an aggregate cost basis of $425 million, worth $732 million today, citing a tweet from company Chief Executive Michael Saylor. At a market cap of $3.11 billion, if the rest of the business were valued at zero -- which Carter said shouldn't be the case as the company had $480 million in sales over the last 12 months -- and taking into account that 10% of their balance sheet is in non-Bitcoin cash equivalents, the premium for Bitcoin is 319%, he said.
Aaron Brown, a cryptocurrency investor who also writes for Bloomberg Opinion, concurred with Carter, writing in an email that MicroStrategy is "not a good way to invest in Bitcoin."
"At $320 per share, you get $75 of Bitcoin and $245 of equity value, so it's not very efficient Bitcoin exposure," he said. "Moreover, you're by no means guaranteed to benefit from an increase in the Bitcoin value," as MicroStrategy may not distribute Bitcoin profits to shareholders, he said. And the firm will owe tax on any Bitcoin profits it realizes, while "there's no reason to think its executives are the best crypto investment managers."
"Even if you think MicroStrategy is the best way to invest in Bitcoin, buying at the moment seems to be paying about twice the market price for Bitcoin, assuming the valuations prior to last week were sound." Brown said that shares may be rallying amid "news coverage" and after Citron Research highlighted owning Bitcoin through the stock.
MicroStrategy traded as much as 7.6% lower on Tuesday after closing on Monday at its highest level since 2000 at $342.77.
Over the weekend, Barron's called Saylor Bitcoin's "most important proselytizer." The executive had been a skeptic who changed his mind as investors told him the firm's $550 million in cash was valued at "literally nothing," according to Barron's. He now believes the dollar will lose "anywhere between 10% and 15% every year for the next five years," he was quoted as saying.
Shares of other companies with exposure to cryptocurrencies have also jumped, with Marathon Patent Group Inc. nearly tripling and Riot Blockchain Inc. up more than 170% since the end of October. Bloomberg Intelligence's McGlone also flagged Silvergate Capital Corp. and Square Inc., which "many in the crypto space have been looking to buy." Silvergate has added 60%, while Square has gained 30%.
"Crypto is clearly getting mainstream validation," Citi analyst Ronit Ghose wrote in a note dated Nov. 30. Ghose cited a recent conversation with cryptocurrency expert Ajit Tripathi, who sees "2020 as a tipping point, marked by an acceleration in adoption, growing understanding and declining fear around the crypto-space."
In October, Wolfe Research analyst Darrin Peller said PayPal Holdings Inc.'s enabling customers to use cryptocurrencies represented "among the more import steps for crypto utility/normalization we have seen in years." Earlier, Mizuho analyst Dan Dolev raised his price target for PayPal to a Street-high $290, as a survey of Bitcoin users showed "upbeat results," with exuberance about the digital currency boosting engagement and propelling growth.