Private Equity Helps Drive College Endowment Returns
(Bloomberg) -- Private equity helped drive annual performance for the top-performing U.S. college endowments.
Michigan State University posted an 11.1 percent investment gain in fiscal 2018, boosted by private equity, venture and real estate portfolios, "which handily beat their public market counterparts," Chief Investment Officer Philip Zecher said in an email.
Most college funds end their fiscal year on June 30 and report results in the fall as they receive performance updates on private investments. Vanderbilt University and University of Kansas posted double-digit returns and said private equity helped performance.
It's a switch from fiscal 2017, when many schools with larger portions of public equities bested their counterparts stacked with more alternatives.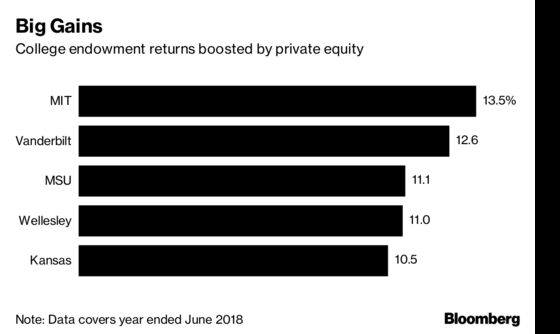 Endowments of all sizes had a median gain of 7.4 percent, gross of fees, according to data by Wilshire Trust Universe Comparison Service. Colleges usually report their numbers net of fees.
The value of Michigan State's fund rose to a record $2.9 billion, the school in East Lansing said Wednesday.
Michigan State allocates about 40 percent in public equity, 23 percent in private equity and 22 percent in hedge funds, with the remainder in fixed income and public and private real estate and real assets.
The fund has been run by Zecher, who has a doctorate in nuclear physics from the school, since 2016. Michigan State was among the top performers in fiscal 2017 with a 16.2 percent return.
Two flagship state schools with larger slices dedicated to stocks lagged. Penn State University gained 7.8 percent and allocated about half of its endowment to global public equities. Alternatives such as private equity and venture capital made up 20 percent. As of June 30, the long-term investment pool was valued at $4.2 billion, which includes $2.9 billion in endowment assets.
Ohio State University's $5.2 billion endowment had 43.9 percent in public equities, with buyout/growth funds at 11.1 percent and venture capital at 0.5 percent. The investment gain was 7.7 percent.
Vanderbilt, a private school in Nashville, Tennessee, gained 12.6 percent, with help from buyouts, venture capital and commodities, CIO Anders Hall said in an email. Assets under management were $5.1 billion, which includes $4.6 billion in the endowment.
"Turning around an endowment is like turning around a big ship," Hall said. "It takes a while but I feel really good about where we are with the portfolio and as a team."