Michael Hasenstab Goes Back to a Playbook That Made Him a Star
(Bloomberg) -- Franklin Templeton's famous bond manager Michael Hasenstab is relying on his old stomping ground of emerging markets to fuel returns in 2021, after conceding defeat last year on a painful bet against U.S. Treasuries.
The $15 billion Templeton Global Bond Fund is trading "investment opportunities in a select set of resilient emerging markets," while wagering on a weaker dollar and euro, and avoiding interest-rate risk in developed nations, Hasenstab said by email. The fund increased investments in the Indonesian rupiah and Indian rupee in the fourth quarter, according to a filing published this week.
Contrarian wagers on emerging markets have handed Hasenstab outsize returns in the past, but the fund has underperformed in recent years in large part due to a failed bet that Treasury yields were bound to rise. Total assets have slumped from more than $65 billion in 2015 to $15 billion by the end of last year.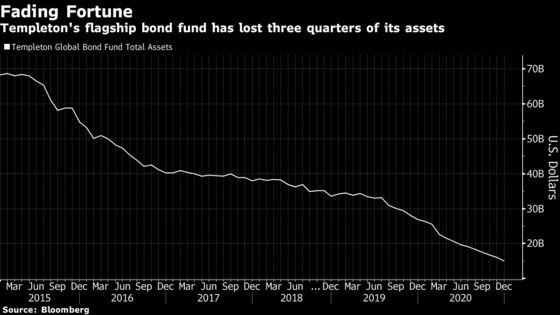 "2020 was challenging, but developments later in the year have set the stage for attractive opportunities in 2021," Hasenstab said by email from San Mateo, California. "A convergence of economic, social, political and medical factors present new currency opportunities that give us great investment optimism, particularly in Asia."
Exposure to developing-economy currencies combined with net-negative positions on the Australian dollar and euro weighed on returns for part of last year. But after a 4.4% loss in 2020, the fund is up 0.4% in the past month.
Emerging-market currencies have rallied more than 3.5% against the dollar in the past three months. Currencies in economies with relatively good fiscal dynamics and current account surpluses are set to strengthen against the euro and dollar, Hasenstab said.
Some of the fund's other bets on developing markets have also struggled at times. It was heavily invested in Argentinian local-currency bonds when the country defaulted in August 2019 and Hasenstab was the biggest foreign holder of Ukrainian sovereign debt when the government there opted for a restructuring in 2015.
Meanwhile, the short duration bet that Hasenstab held onto until early last year may finally be coming good. Ten-year U.S. yields climbed above 1% this month for the first time since the start of the pandemic and institutional investors have turned bearish on Treasuries for the first time in more than three years.
Hasenstab's short-Treasury position started out small in 2017 and grew to become the biggest such bet of any major global bond fund.
Average duration in the Global Bond Fund -- a measure of its sensitivity to interest rates -- has since turned positive and stood at 2.43 years at the end of last year, according to the latest filing.