Mexico to Shut Down Wells a Week After Refusing Deep OPEC+ Cuts
(Bloomberg) -- With crude prices collapsing, Mexico's president says his country will shut down new wells in a move that comes just over a week after he almost wrecked a global oil deal by refusing to make deep output cuts.
The country invested last year in drilling new wells, Andres Manuel Lopez Obrador said during his daily morning press conference on Tuesday. But "now that oil has no value, we can shut down the valves," he added. His reasoning: Valves on newer wells "don't lose pressure" like those on older wells.
The leader known as AMLO said Mexico will produce more oil for its refineries instead of sending it abroad, and will process one million barrels of crude oil in May. By drilling new onshore and shallow-water wells, state-owned oil producer Petroleos Mexicanos has averted a worse situation, since it would take longer to reopen valves at mature fields, he said.
Mexico's Maya spot price was negative on Monday as world oil prices plunged below zero for the first time in history. It is a major blow to the president's plan to revive oil output at Pemex, which has fallen for 15 consecutive years. The goal is so important to Lopez Obrador that he refused to accept bigger voluntary output reductions for three days during the OPEC+ negotiations earlier this month, even if it meant angering other nations and risking the failure of the historic deal.
In the end, Mexico was allowed to cut 100,000 barrels a day in May and June instead of 350,000, just a quarter of its pro-rated share of the 9.7 million barrels a day reduction agreed by the oil-producing nations forming OPEC+.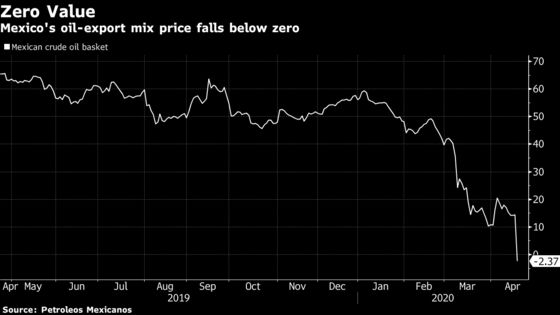 Lopez Obrador's political victory may be short-lived as the fast-spreading coronavirus takes its toll, destroying oil demand. The decision to shut valves of new wells comes after Pemex was downgraded twice on Friday, with Moody's Investors Service slashing its rating to junk and Fitch Ratings cutting the company to BB-. Pemex also faces a fuel glut as demand wanes in Mexico because of the coronavirus containment measures.
"With the fall in the oil price there is an aggravation of the world economic crisis that will certainly affect us," Lopez Obrador said. "However, I want to guarantee, assure that Mexicans will be able to face this crisis."
Ratings agencies have been skeptical of Lopez Obrador's nationalist oil policies, which places much of the burden of developing Mexico's oil fields on cash-strapped Pemex, whose debt is the highest of any oil major.
AMLO has canceled oil and gas auctions and joint-venture contracts with Pemex that had lured the world's biggest oil companies to invest in Mexico. And he's saddled Pemex with a mandate to build a new $8 billion refinery in his home state of Tabasco, even as its six existing refineries are operating less that 30% of their capacity.