Prospect of Harsher Rules Causes Mexican Mining Companies to Fall Even Farther
(Bloomberg) -- Mining companies operating in Mexico extended a sell-off, with Southern Copper Corp. falling the most since 2011, even as a Mexican lawmaker attempted to calm market worries over the prospect of tougher regulation under incoming President Andres Manuel Lopez Obrador.
Large Mexico-based mining companies have slipped almost 8 percent on average over the past two days, according to analysts at Raymond James. Lima-based Southern Copper fell 11 percent in New York, and Toronto-based Torex Gold Resources Inc. was down as much as 14 percent, the biggest intraday decline since July.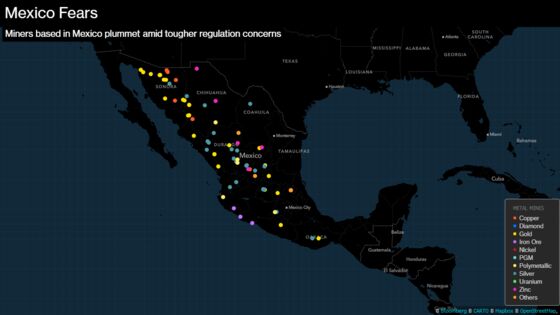 Miners operating in the country started sliding earlier this week after Angelica Garcia Arrieta, a senator in Lopez Obrador's Morena party, called for tougher regulations that included increased project surveillance and giving more powers to communities and government. Morgan Stanley downgraded some stocks this week on concern that the new congress is considering as many as 11 bills or resolutions that could have a "material" impact.
"While the reaction certainly may be overdone in some cases, we expect there could be increased share price volatility on Mexican exposed stocks until there is more clarity," Brian MacArthur, head of mining research at Raymond James, said in a research note. "The suggestion that concession permits could be withheld for new projects, or revoked for existing ones due to environmental and social impact, has raised concern."
Proposals relating to the need for social and environmental impact studies on mining projects appear similar to regulation already applying to the mining sector in Mexico, according to the Raymond James report. But the language raising the most concern is the potential to revoke mining concessions on environmental and social grounds, it said.
The losses continued Friday even as a Morena party senator tried to tone down the rhetoric.
"We need anxious deputies and senators to think once, twice, three times what they will bring up because they impact the country's economic activity and Mexican and foreign investments," said Armando Guadiana, a Morena party Senator, according to a report in El Sol de Mexico. "We can't be changing laws and regulations just for the sake of it."
Industrias Penoles SAB fell for a fourth day. London-listed silver and gold miner Fresnillo Plc fell 14 percent this week, its biggest weekly decline since 2015. Grupo Mexico SAB was an exception, rising 1.9 percent as of 1:21 p.m. local time on Friday after three straight declines.