Mexican Peso Indicator Shows Weakness Ahead as Election Looms
(Bloomberg) -- Mexico's peso looks set for more pain as the country's presidential vote approaches, according to a technical indicator.
The peso's DVAN trend line -- a proprietary divergence analysis that measures buying or selling pressure -- is on the longest selling streak since Donald Trump's election. The bigger the gap between the currency's stop -- a measure reflecting volatility -- and the trend line, the stronger the negative pressure. The signal may point to more volatility and downside to come.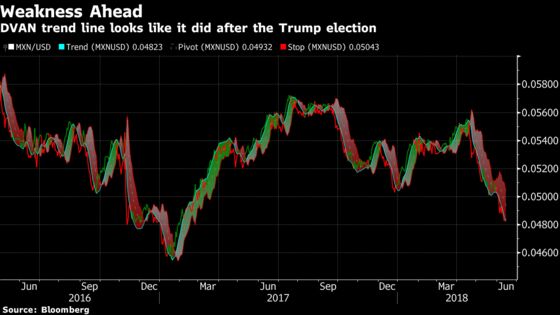 The currency is already near the weakest levels since Trump's inauguration in January 2017 as investors fret that the leading presidential candidate, Andres Manuel Lopez Obrador, poses a danger to the country's fiscal position. He has a 26 percentage point lead over second-place Ricardo Anaya in Bloomberg's poll tracker, and analysts see little chance one of his competitors will catch up before the July 1 vote. His rise in the polls has sent the peso tumbling 12 percent since the end of March, making it the worst performing major currency tracked by Bloomberg.