Mexican Banks Tumble on AMLO's Surprise Proposal to Limit Fees
(Bloomberg) -- For the second time in as many weeks, Mexico's incoming government of President Andres Manuel Lopez Obrador delivered a blow to investors.
Sovereign bonds and the currency slid in tandem with shares of the nation's biggest banks after the new president's party proposed the scrapping of some lender commissions.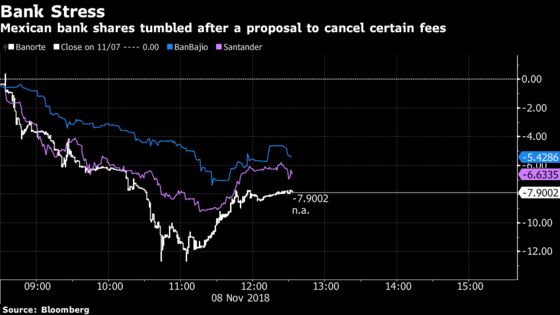 The proposal is "horrible," said Greg Lesko, a money manager at Deltec Asset Management in New York. "It shows a real willingness to meddle in the private sector and after the airport decision, it looks bad."
Lopez Obrador cancelled a $13 billion airport project on Oct. 29, triggering a rout in Mexico's currency and bonds on concern it was a portent of things to come. Today's proposals renewed that selloff less than a month before the new president takes office. Fitch Ratings changed its outlook on Mexico's debt last week to "negative" from "stable", citing uncertainty over which policies Lopez Obrador will pursue.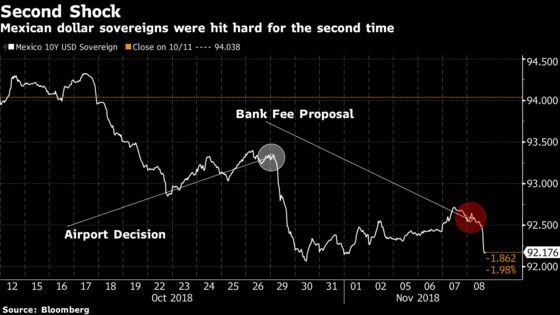 Under an initiative presented by the head of the Mexican Senate, Ricardo Monreal, fees on ATM cash withdrawals and balance requests would be eliminated, in addition to commissions charged for printing bank balances and transfers to other banks. The proposals, which are in line with international practice, would be implemented gradually. ABM, Mexico's banking association didn't immediately comment.
Grupo Financiero Banorte tumbled 10 percent after the announcement to 108.09 pesos at 12:24 p.m. in New York. Banco del Bajio, Banco Santander and Grupo Financiero Inbursa also slid, joining a general selloff in the Mexbol stock index.
"It's a negative sign for the sector," said Carlos Gonzalez, director of analysis at Grupo Financiero Monex in Mexico City. "A large part of their revenues are from these commissions."