New Fund Chasing Day-Trader Favorites Slammed by Meme Stock Slide
(Bloomberg) -- Betting on meme stocks was a way to mint money at the beginning of the year. With barely two weeks to go, it's become a pain trade -- handing a rough start to one fund seeking to ride the retail-investor revolution.
When the Roundhill MEME ETF (ticker MEME) debuted last week, day-trader favorites like GameStop Corp. and AMC Entertainment Holdings Inc. were already under pressure from uncertainty from the omicron variant and changes in monetary policy. But now, they're sliding anew as speculative assets bear the brunt of another selloff ahead of this week's Federal Reserve meeting.
That means the exchange-traded fund has fallen every day since its launch Wednesday. 
So far this week, GameStop and AMC have shed 15% and 16%, respectively. Meanwhile, the fund's top holding Digital World Acquisition Corp. -- the special purpose acquisition company taking former president Donald Trump's media company public -- is down 11%, bringing its losses to 23% since the ETF launched.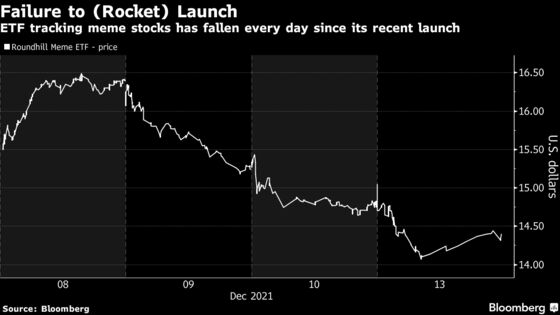 Meme stocks dominated the beginning of 2021, when retail investors -- flush with stimulus checks, commission-free trading apps and extra time at home -- were able to orchestrate epic rallies in names such as GameStop. But the speculative frenzy has cooled since then, and the prospect of a more hawkish stance from the Federal Reserve could weigh on risky stocks into next year. 
"If you're a meme stock in 2021, you most likely performed like a meme stock. If you're a meme stock in 2022, you're going to perform based upon your actual potential fundamental growth prospects because the Fed is removing a lot of that support that has ultimately bubbled into some of these equity market memes," Bloomberg Intelligence's Gina Martin Adams said on Bloomberg's "QuickTake Stock" streaming program Monday.
The ETF fell 2% Tuesday as of 10:05 a.m. in New York, bringing its losses to 14% since launching.