Megarounds Power London to Record $26 Billion in Tech Investment
(Bloomberg) -- London kept up a blistering pace of technology financing last year, leading all other European cities with $25.5 billion in fresh investment. 
The new funding into local tech companies was more than double levels from 2020, with firms across the entire U.K. raising about $40 billion, according to a report from the capital's promotional company London & Partners, and data provider Dealroom.co. 
Ranking fourth globally for VC investments among urban areas, London trailed just the San Francisco Bay Area, New York and Boston.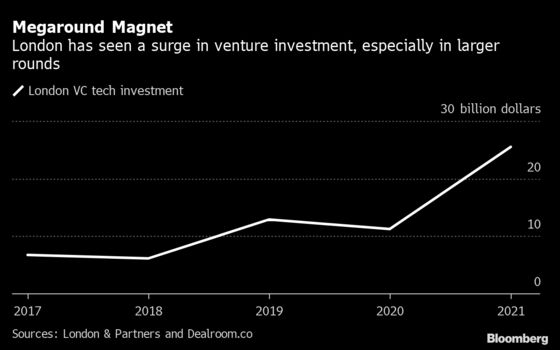 More than 60% of all funding across London last year came via rounds of $100 million or more, according to the report, with 64 in 2021. That's an increase from 18 in 2019 and 19 in 2020.
There's no sign of a slowdown yet, with payments company Checkout.com raising $1 billion at a $40 billion valuation on Wednesday. 
"I don't think there's anything that's going to slow London down and it's going to continue to be the biggest hub of Europe," said Eileen Burbidge, a partner at Passion Capital. She cited collaboration between lawmakers and the tech sector, and the local talent pool as factors favoring the city.  
London also added 20 new tech firms worth $1 billion or more -- so-called unicorns -- across the past year, taking its total count to 75.