Martin Shkreli's Conviction Is Upheld by U.S. Appeals Court
(Bloomberg) -- Martin Shkreli's fraud conviction was upheld by a federal appeals court in New York, which rejected his claim that jurors got erroneous instructions from the trial judge.
Shkreli was convicted two years ago of lying to investors in two of his hedge funds and also manipulating shares of Retrophin Inc., a biotech company he founded. He was sentenced to seven years and sent to a low-security prison camp.
The appeals court's ruling on Thursday came less than three weeks after hearing arguments -- a surprisingly fast turnaround for a court that often takes months to issue a ruling. The ruling was also noticeably brief, at seven pages.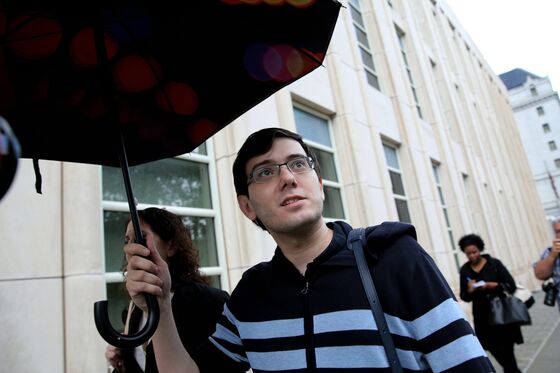 Shkreli's team argued that U.S. District Judge Kiyo Matsumoto gave incorrect legal instructions that confused jurors, leading to an inconsistent verdict. His attorneys also contended that he lacked the intent to defraud his investors because he thought his failing hedge funds would eventually recover.
The judges signaled that they were skeptical of those arguments. They allowed the prosecutors to complete their arguments with time remaining on the clock, didn't ask any further questions and didn't ask Shkreli's team for any rebuttal.
In the ruling, the appeals court agreed with prosecutors, saying the judge correctly told jurors that investors didn't need to have lost money for them to conclude he had defrauded them and committed a crime.
"We are obviously disappointed with the court's decision," Benjamin Brafman, Shkreli's attorney, said.
Shkreli was moved from the low-security camp in March after the Wall Street Journal reported he was using a contraband mobile phone to secretly run Turing Pharmaceuticals, now known as Phoenixus AG, as well as posting on Twitter. The facility he's now in is more secure, with about 1,260 inmates living in dormitory areas and cells. Shkreli is scheduled to be released in October 2023.
Dubbed the Pharma Bro, Shkreli became notorious in 2015 while serving as chief executive officer of Turin when he increased the price of a potentially lifesaving drug by more than 5,000%. That gained him another moniker -- the most hated man in America.
Federal prosecutors in Brooklyn declined to comment.