Markets Get Weirder With Stocks and Volatility Tumbling Together
(Bloomberg) -- The stock market and volatility are in the midst of an unprecedented synchronized swoon.

The S&P 500 Index has fallen more than 7% over the past two sessions while the Cboe Volatility Index, a measure of how much that benchmark gauge is expected to move over the next 30 days, tumbled by more than 10 points. Before this, there had never been a combination of a two-day equity drop of at least 5% and a VIX retreat of at least 5 points.
The dual declines could be a function of a market normalizing after high-profile blowups of short volatility bets, less demand to roll hedges after a major option expiry, or simple exhaustion. Record-setting levels of market fear aren't easily sustained, and the drop in volatility expectations signals the most frenzied days of selling may be behind us.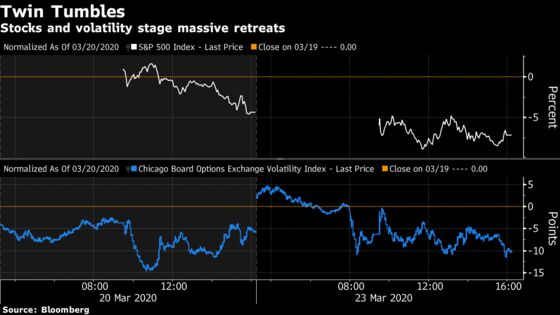 "I think we've broken the back of the VIX fever," said Michael Purves, the chief executive officer of Tallbacken Capital Advisors. "But the potential for a second surge is a risk if the coronavirus news flow becomes decidedly worse."
He cautioned that the VIX drop isn't signaling a market bottom. Instead, it shows that things have calmed down enough that equities and volatility are able to move lower in concert thanks to improvements in market making and liquidity. In the bear market that encompassed the financial crisis, for instance, the VIX Index peaked months before the next bull market began in March 2009.

Friday saw the most anomalous divergence between the performance of stocks and implied volatility in at least 12 years. On a so-called quadruple witching day, when options and futures on indexes and equities expire, the S&P 500 plummeted almost 5% while the VIX Index slumped 6 points. Since at least the start of 2008, the VIX Index had never declined on a day in which the S&P 500 Index finished at least 4% lower.
"Is it a coincidence that this happened on quad witching?" said Megan Miller, portfolio manager at Wells Fargo Asset Management. "I don't think so."
One potential explanation for the VIX drop is that investors had already dumped enough of their exposure to risk assets, lessening the need to buy hedges that look expensive by historical standards.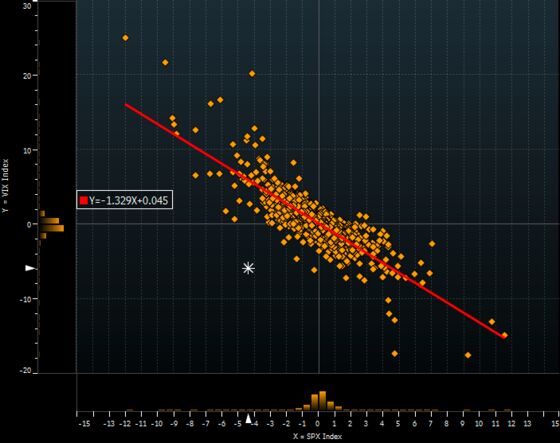 This dichotomy was on display again Monday afternoon, with the S&P 500 Index and VIX Index again moving lower in tandem.

One broad factor at play is that it's simply difficult for volatility to linger at extreme levels for a prolonged stretch, according to Pravit Chintawongvanich, Wells Fargo's equity derivatives strategist.

"Even in 2008, the VIX was able to sustain only six trading days above 70 (so far this year, we've had five)," he writes. "Regardless of if stocks continue to grind lower or rebound, there is room for the VIX curve to normalize further."

A reduction in realized volatility after March 16 saw the worst sell-off for the S&P 500 Index since 1987 may have contributed to the moderation in the equity market's fear gauge. Implied swings could also have overshot to the upside amid the fallout from high-profile liquidations of short-volatility bets by the likes of Graham Capital Management and Malachite Capital Management. Calming volatility could thus be viewed as merely the correction of a prior excess, he added