Markets Brace for 2020 Election Marathon With Plans A Through Z
(Bloomberg) -- The message from Wall Street this election season is clear: Be prepared for surprises.
Even before the first votes are cast Monday in Iowa, investors are bracing for months of uncertainty. Senator Bernie Sanders's lead in polling for the state's Democratic caucus is signaling an extended primary fight with myriad ups and downs ahead.
After President Donald Trump's surprise 2016 victory whipsawed markets, no one wants to get caught off guard this time. There's been "unprecedented" levels of equities hedging this early in the election cycle at Cboe Global Markets Inc. And there are signs that currency traders are sizing up the Democratic field and hedging their bets as they weigh the implications for November.
"Normally you can have Plan A and Plan B, and now you're going to have Plan A through almost Z," said Sean Simko, global head of fixed-income portfolio management at SEI Investments Co. "There will be multiple plans as there are multiple contenders, and each has a similar but different story."
While markets have been forced to focus in recent weeks mainly on the economic impact of the deadly coronavirus, investors say they also need to start prepping for the electoral marathon ahead. As they do, a handful of themes are prevalent: trade policy, the bulging federal deficit and taxes.
The focus of Trump's trade war has been mainly on China, and it produced a phase-one deal -- which the two sides signed last month.
Easing tensions helped push the Treasuries yield curve to the steepest in more than a year in December, and drove the yuan to a multimonth high in January.
Intensifying virus concerns since then have pummeled China's currency. That's added to the uncertainty investors face as they mull whether U.S. presidential candidates will choose to make exchange rates, and renminbi weakness in particular, an electoral issue.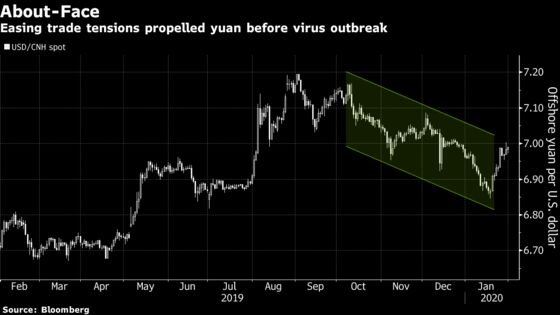 But looking to the next round of trade negotiations, the talks may not be any less difficult even if a Democrat were to win in November, according to Invesco's Kristina Hooper.
"If we were to get a progressive Democrat, the U.S. attitude toward China wouldn't change," said Hooper, Invesco's chief global market strategist in New York. "Sanders and Warren are protectionist and I believe would take very similar positions that Trump has toward China."
A victory by former Vice President Joe Biden, who's perceived to offer a more moderate path than some of his rivals, may pressure yields higher on speculation that he might be more inclined than other candidates to roll back tariffs, Hooper said.
In national polling for the Democratic nomination, Biden has the lead, followed by Sanders and Warren, according to RealClear Politics averages. Michael Bloomberg is polling fourth. He's the founder and majority owner of Bloomberg LP, the parent company of Bloomberg News.
The top three Democratic candidates are leading Trump in head-to-head polls by roughly two or more percentage points, according to RealClear Politics.
For Brad Bechtel at Jefferies LLC in New York, there's at least one near-certainty: An already bulging U.S. deficit is likely to swell. In his view, that could spell trouble for the dollar, which has gained in five of the last seven years.
The White House is working on plans for a post-election tax cut. Meanwhile, an adviser to Sanders says the U.S. can safely add $500 billion to its deficit, which is already poised to exceed $1 trillion, without risking a jump in inflation. Democratic candidates have advanced spending proposals on areas such as climate change, infrastructure and education.
A scenario where a significant fiscal plan emerges, combined with a pickup in global growth and trade -- a prospect that looked more likely before the viral outbreak in China -- would present "a perfect storm for the dollar," Bechtel said.
To be sure, markets have yet to reach a tipping point on America's swelling budget shortfall, despite years of warnings. Record low yields are within reach, even as the Treasury is selling historic amounts of debt.
For Zhiwei Ren at Penn Mutual Asset Management, a victory by some of the top Democratic candidates risks quicker inflation because the spending increases they advocate may not be funded by sufficient tax increases.
"It matters more if Warren or Sanders are the candidate from the Democratic side, because a lot of their policies are extremely inflationary," said Ren, who's firm is based in Horsham, Pennsylvania.
Ten-year yields are set to rise if one of these candidates wins the nomination and then November's vote, he said. Of course, Trump has expanded the deficit and the need for increased debt sales -- mainly through his tax cuts -- and he isn't likely to become fiscally conservative if he's re-elected, Ren said.
So while yields may rise with a Trump victory, the increase would be more dramatic under some of the Democratic candidates, Ren said.
No matter how the primaries shape up, history shows investors may want to bet on a flatter yield curve in the six to nine months before November's vote. That's what's happened in U.S. election cycles since the 1980s, according to Deutsche Bank AG.
"Investors tend to reduce risk and hide out in Treasuries as electoral uncertainty is resolved," said strategist Stuart Sparks in New York.
The starting gun has already fired: Three-month Treasury rates are above those on 10-year notes for the first time since October in the wake of the Federal Reserve's meeting last week.
Bechtel expects that questions around the election will only intensify as Nov. 3, the day Americans vote for president, approaches. While Trump's moves -- and tweets -- have been far from predictable, upheaval may ensue even if he loses.
"The big issue in markets is certainty," Bechtel said. "If you get a Democrat into office, then uncertainty increases, depending on the candidate."