Trade Hopes Trump Dismal German Data for European Equities
(Bloomberg) -- It's unusual to see such gloomy data on German economic activity having so little impact on European equities.
The nation's industrial production slumped 1.9 percent in November, raising the risk of an imminent recession for Europe's largest economy. It's the worst year-on-year drop since the end of the financial crisis, but it seems investors have brushed aside this risk to focus on potential good news from the U.S.-China trade front.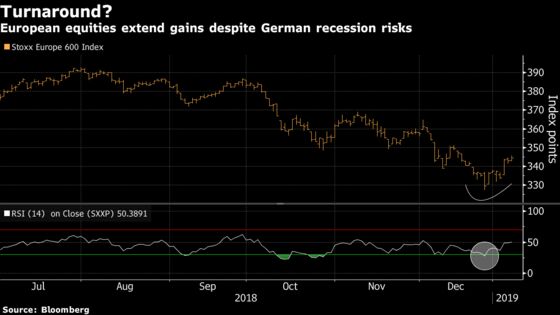 "The data shows that a recession in Germany is likely this year, but in the short term it's more a U.S.-China trade story for markets, and stocks are bouncing from a low," said Manish Singh, the London-based chief investment officer at Crossbridge Capital. "I'm more concerned about France however. That will be the epicenter of the crisis this year -- it's the elephant in the euro-zone room."
All sectors apart from telecoms were in the green on Tuesday, with retailers, industrial and car companies among the biggest gainers on the Stoxx Europe 600 index. The benchmark rose 0.9 percent, closing at its highest level since mid-December. It has gained 5.7% since an intraday low hit on Dec. 27.
Autos were the fourth-best performing sector on reports that China, the world's largest car market, will boost product purchases next year.
On the trade front, a U.S. official said talks with China are progressing and will continue on Wednesday. U.S. President Donald Trump said in a tweet that talks are "going very well." At the same time, Dow Jones reported that while progress was made on issues including the purchase of U.S. goods and services, the two sides were not ready to conclude a deal and cabinet-level talks were expected later this month.
The fact that equity strategists are showing an increasingly bullish view is certainly helping.
"We see 10 percent upside for European equities by June," wrote Sebastian Raedler, European equity strategist for Deutsche Bank in a note to investors. "Just as early 2018 marked the peak in growth momentum, we think December 2018 was the trough."
But the renewed optimism after a dismal year does not mean the market is out of the woods just yet. "In a bear market, the strongest bounces come from the weakest assets," Valerie Gastaldy, strategist at Day by Day, wrote in a note. "In most instances, they bounce because short-term sellers want to take profit, not because long-term buyers are opening new long positions."