Market Brawl Breaks Out Ahead of Fed With Tech, Bitcoin Battered
(Bloomberg) -- A surge in bond yields ahead of the Federal Reserve's highly anticipated policy meeting is wreaking havoc across the stock market's speculative corners.
The Nasdaq 100 fell as much as 1.5% on Wednesday as long-dated Treasuries continued to sell off, pushing 10-year yields to 1.67%, the highest since before the pandemic.. The tech pain was widely felt, with high-flying names such as Tesla Inc. and Cathie Wood's ARK Innovation ETF (ticker ARKK) taking hits. Newly public companies also dropped, while a Goldman Sachs basket of unprofitable tech firms fell more than 3%, extending its worst monthly slide in a year.
Underlying the pain is a laser-like focus on the Fed's updated "dot plot," which displays policy makers' projections for interest rate movements. A brightening economic outlook and building inflation expectations have fueled breakeven rates and bond yields higher, pushing traders to price in a Fed hike by March 2023. Expensive tech stocks -- which have dominated over the past year -- have been a casualty, as higher yields make it more difficult to justify their lofty valuations.
"All attention is focused on the dot plot and when the Fed anticipates its first rate hike," said Keith Buchanan, portfolio manager for GLOBALT Investments in Atlanta. "Tech has benefited from rates moving lower for longer for years, but the knife cuts both ways -- when rates move higher those stocks are at risk."
The rise in yields has been particularly painful for growth darling ARKK, which dropped as much as 4% in early Wednesday trading as some of its biggest holdings sank. Electric vehicle maker Tesla dropped as much as 3.8%, while Square Inc. and Roku Inc. stumbled as well.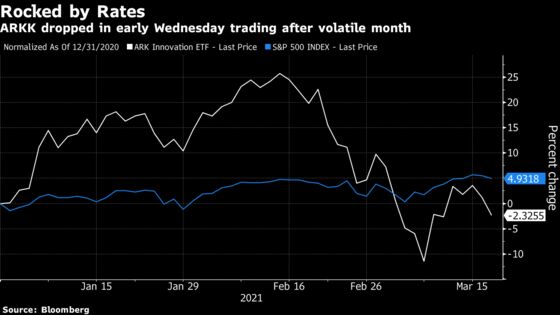 Ark's $24 billion flagship fund has been whipsawed in recent weeks amid a rotation into previously unloved value shares. It fell almost 30% from its February peak before recovering 14%, after a 149% rise in 2020. While Wood said this month that the rotation is healthy and Ark is keeping their "eye on the prize," the ETF's gains have been whittled to just 1.2% year-to-date.
The Renaissance IPO ETF, tracking companies that just went public and have yet to prove their record, fell as much as 2.7% as trading kicked off, poised for a second day of declines. About 85% of the 130 companies that went public in the U.S. last year were unprofitable, according to data compiled by Bloomberg that excludes special purchase acquisition companies and real-estate investment trusts. But that's no trouble for bulls willing to chase winners. The ETF doubled in 2020 for its best year on record.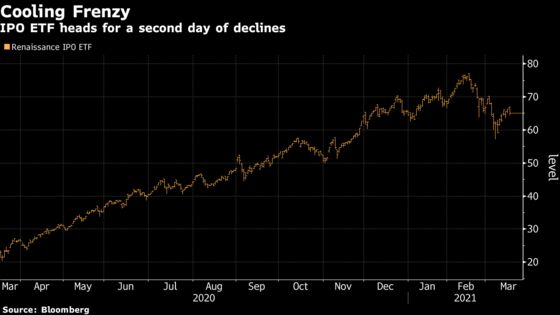 Now, the spike in yields is evaporating those gains. The IPO ETF has tumbled as much as 22% since peaking in February.
"As the economy grows, as interest rates move higher, that makes speculative investments less attractive," said Chris Zaccarelli, chief investment officer of Independent Advisor Alliance. "Any IPO is going to be considered more speculative than more mature businesses that have been public for 20 or 50 years."
The cooling risk appetite is also taking a bite out of Bitcoin. While the world's largest cryptocurrency topped $61,000 on Saturday to hit another record, it's dropped every day since in its longest losing streak since December as rising rates roil markets. Crypto-exposed stocks such as MicroStrategy Inc. and Marathon Digital Holdings Inc. also fell Wednesday as Bitcoin broke below $55,000.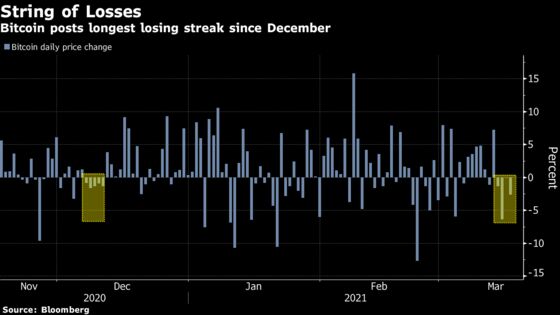 While crypto advocates pitch Bitcoin as digital gold and a hedge for rising price pressures, it tends to move in tandem with stocks. It's also been a beneficiary of the Fed's loose monetary policy, making it vulnerable to a pullback in that support, according to Miller Tabak + Co.'s Matt Maley.
"If the Fed is going to be willing to let long-term rates rise, that means they're going to be a bit less accommodative going forward," said Maley, chief market strategist at the firm. "Since some investors see the Bitcoin rally at least partly fueled by liquidity, less accommodation will create some headwinds for the cryptocurrency."