AI-Powered Fund Thrashing S&P 500 Is Wary of Cyclical Bounce
(Bloomberg) -- A machine-guided fund which has almost doubled the performance of the S&P 500 Index this year is casting serious doubt over a sustained rebound in cyclical stocks.
The AI Powered Equity ETF (AIEQ), an exchange-traded fund driven by artificial intelligence, has risen about 13% year-to-date versus a 7% gain in the S&P 500.
The fund's "manager," a model which runs 24/7 on IBM Corp.'s Watson platform, is heavily overweight health care and consumer discretionary shares, according to data compiled by Bloomberg. It has a modest overweight in technology and is underweight financials and industrials.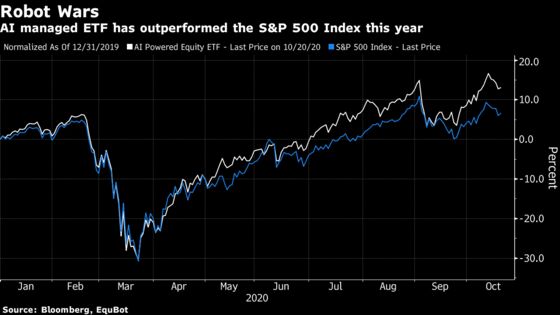 "However the algorithm is picking stocks it is delivering decent returns, albeit with some air pockets along the way," Nicholas Colas, co-founder of DataTrek Research, wrote in a note Tuesday. "It isn't buying the reopening/cyclical trade as we start the final quarter of 2020," but at the same time, "it is not running to hide in Big Tech."
The quantitative model behind the $96 million fund, developed by EquBot, assesses more than 6,000 U.S. publicly-traded companies each day. It scrapes millions of regulatory filings, news stories, management profiles, sentiment gauges, financial models, valuations and bits of market data, and then chooses about 30 to 70 stocks for the fund, which is run by ETF Managers Group LLC.
Launched in October 2017, the AI Powered fund has gained about 27% since inception, compared with a 35% rise for the S&P 500.
"We read its message as 'tech will work, just not the go-to names from earlier this year, and be very careful with cyclicals," said Colas. "We're more optimistic than that, but looking at the AIEQ portfolio is a good reality check nonetheless."