Zuckerberg's Investment Firm Iconiq Attracts Wealthy Brazilians
(Bloomberg) -- Rich Brazilians now have access to some of the same investments as Mark Zuckerberg.
Banco BTG Pactual SA and Itau Unibanco Holding SA are introducing their high-net-worth clients to venture capital funds run by investment firms including Iconiq Capital, which is also a multifamily office that manages money for the Facebook chief executive and Silicon Valley luminaries including Twitter's Jack Dorsey and LinkedIn's Reid Hoffman.
BTG is also raising 300 million reais ($73 million) for its first local venture capital fund with a global strategy. It plans to invest in several top asset managers' funds, and can allocate as much as 40% of its portfolio outside Latin America, according to the prospectus.
"Wealthy Brazilian clients aren't that used to investing in private equity," said Rafael Mazzer, a BTG partner. Since interest rates are so low in Brazil and around the world, "if they want to get returns somewhere around 10% a year, they'll need to seek longer-term investments" such as venture capital, Mazzer said.
Brazil's central bank cut its benchmark interest rate 200 basis points this year to a record low 4.5%, while inflation reached 3.27% in the 12 months through November.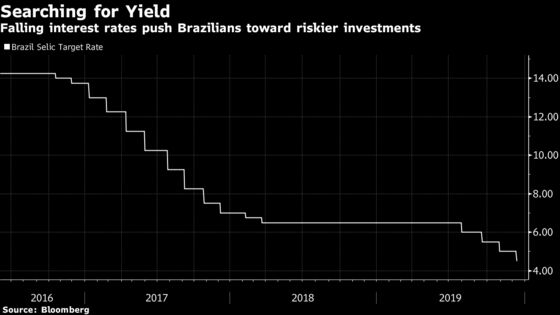 A few of BTG's top clients invested in Iconiq, Mazzer said. Some of Itau's clients are also investing, according to a person familiar with the matter who asked not to be identified because the information isn't public.
BTG's new fund, BTG Pactual Multigestor Venture Capital II, will accept investors who have more than 10 million reais allocated to the financial markets or who work at a financial company, according to the prospectus. It has a management fee of 1.5%.
Some of the investments at BTG's new fund may go to Bond Capital Associates, an asset-management firm founded by Mary Meeker, known for her investments in firms such as Twitter Inc. and Spotify Technology SA, one person familiar with the matter said. About 60% of the fund will invest in Latin American companies at a more advanced stage than startups.
As more Brazilians seek out new types of investments, total assets under management in the nation's fund industry surged to 5.3 trillion reais as of October. Inflows of 228 billion reais were almost three times last year's level.