Marijuana ETF Appoints New Custodian After Tumultuous 12 Months
(Bloomberg) -- After a year of controversy, an exchange-traded fund that invests in marijuana companies is shaking up its back-office team.
The $560 million ETFMG Alternative Harvest ETF, which trades under the ticker MJ, is getting a new custodian, administrator and transfer agent, according to a filing by its adviser, ETF Managers Group. U.S. Bancorp previously performed those roles, which included housing shares of cannabis producers.
It's been a tumultuous few months for the fund, which last year surprised investors when it changed its strategy from buying Latin American real estate to pot growers. The ETF quickly gathered hundreds of millions in assets, but was plagued by questions about whether U.S. Bancorp would stick around as custodian, given the potential legal and reputational risks.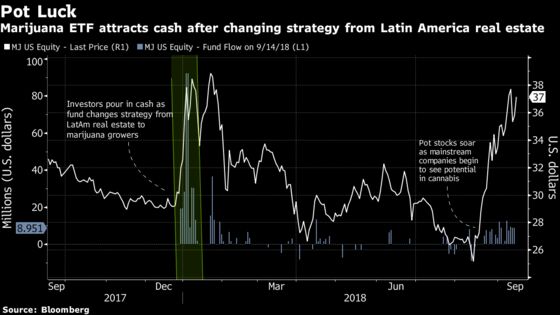 "It probably should be a big deal for investors," said Eric Balchunas, a senior analyst at Bloomberg Intelligence. But "I don't think it will matter much or change MJ's increasingly large role in the market."
Representatives for ETFMG and U.S. Bancorp could not immediately be reached to comment.
Wedbush Securities Inc., a Los Angeles-based broker-dealer, will be the fund's new custodian, the filing shows. ETF Managers Group will handle the administrative duties, including regulatory reporting, while Computershare Trust Co., a Canton, Massachusetts firm, is the new transfer agent. ETFMG will receive a fee for acting as administrator. As the fund's adviser, it currently takes a management fee of $7.50 for every $1,000 invested.
MJ has absorbed almost $70 million in September, already its best month since January, data compiled by Bloomberg show. The fund has soared more than 10 percent since Aug. 31, as pot stocks rally in the run up to the full legalization of weed in Canada. Coca-Cola Co. this week said that it was considering creating cannabis-infused drinks.