This Fund Is Waiting on the Sidelines for a Hard Brexit, Then a Slowdown
(Bloomberg) -- Plenty of people are pessimistic about Brexit. Not many of them run a $15 billion credit hedge-fund hunting for distressed debt.
Marathon Asset Management's Bruce Richards says his firm is in standby mode, waiting to invest in any U.K. companies roiled in the fallout of the country's looming divorce with the European Union. As the pound whipsaws and borrowing costs creep higher amid speculation the torturous search for a Brexit deal may soon be over, Richards struck a downbeat tone on Bloomberg TV.
"Hard Brexit is our base case," he said. " We believe the politicians including Theresa May will stand up on stage and talk to everyone how this is a consensual deal -- but it's going to be a hard Brexit, because the EU will not make it easy on the U.K. leaving."
U.K. Prime Minister Theresa May has begun briefing her Cabinet on the text of the almost-complete Brexit deal, according to people familiar with the matter.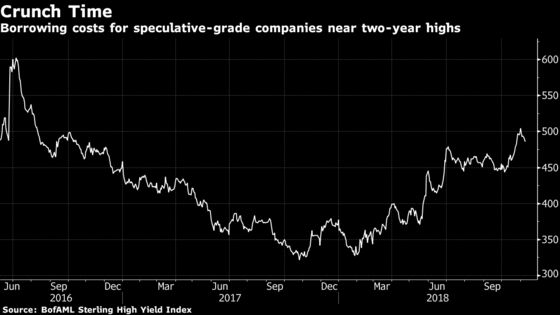 "The U.K. is fine for now, and there's some value here and there, but I hold back my investments for now because come a year after Brexit, we believe there's a recession waiting," said Richards, who's also eyeing distressed debt opportunities from a global downturn.