Manulife Sees Indonesia Stocks Reaching Record Amid Higher Oil
(Bloomberg) -- Indonesian stocks are poised to rally to a record partly because higher crude prices are likely to lift the value of commodities ranging from coal to palm oil, according to Manulife Financial Corp.
While Indonesia is a net importer of oil, its exports of raw materials tend to rally in tandem with the commodity, said Katarina Setiawan, a strategist at the firm's local unit, which manages the equivalent of $4.78 billion. The Jakarta Composite Index should rally to as high as 7,100 this year, she said, a gain of 11 percent from Thursday's close.
"Historically, a high oil price has been able to lift prices of other commodities and push the economy to grow faster," Setiawan said during the firm's market outlook presentation on Thursday. "In the past, the growth rate exceeded 6 percent when oil prices averaged $115 to $120 per barrel for the year."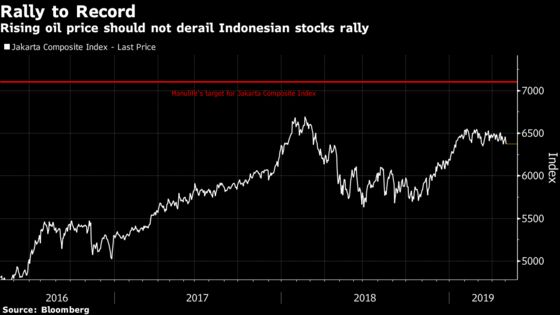 Oil has soared this year on fears of supply disruptions from Venezuela to Iran and as OPEC countries curbed output. West Texas Intermediate crude is up more than 35 percent this year to about $62 per barrel.
Setiawan expects investor sentiment will improve after May 22, when the official results of last month's presidential election are due to be announced. President Joko Widodo, who has been leading the tally against his rival Prabowo Subianto, is expected to continue economic reforms that include measures to boost exports, attract foreign direct investments and improve the competitiveness of the nation's workforce.
Manulife favors Indonesian stocks over bonds, partly due to lower foreign ownership of the country's equities relative to sovereign notes. The key beneficiaries of future government policies would be the automotive sector, banks, property firms, cement makers and metal producers, Setiawan said.