Magnitude 6.3 Quake Hits Philippines, at Least Eight People Dead
(Bloomberg) -- A magnitude 6.3 earthquake struck the Philippines late Monday afternoon, killing at least eight people and prompting thousands to evacuate.
The quake occurred 1 kilometer from Gutad, located to the northwest of Manila, according to the U.S. Geological Survey. The Philippine disaster monitoring agency said the quake struck Castillejos in Zambales province at 5:11 p.m. local time.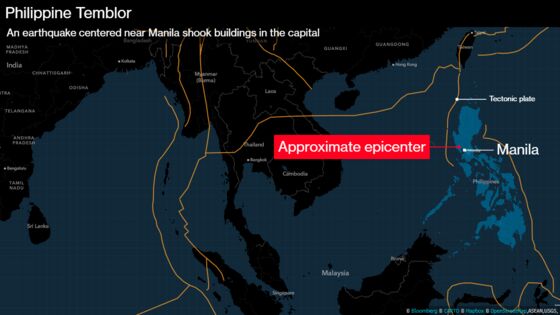 At least eight people were killed in Pampanga, north of the capital, its governor Lilia Pineda said over DZBB radio. As many as 30 people are feared trapped in a supermarket in the same province, the disaster-risk monitoring agency said in a mobile-phone message to reporters. Pampanga province is home to the Clark economic zone, where the government is building a back-up capital.
Several areas in Luzon island including Metro Manila suffered power outages as the quake affected several power plants, the Department of Energy said. Petron Corp., the larger of the nation's two oil refiners, said the earthquake triggered the protective tripping of some units at its refinery. This caused the plant to shutdown, which was followed "by the usual flaring of gases as required," the company said, adding that there was no fire at the refinery.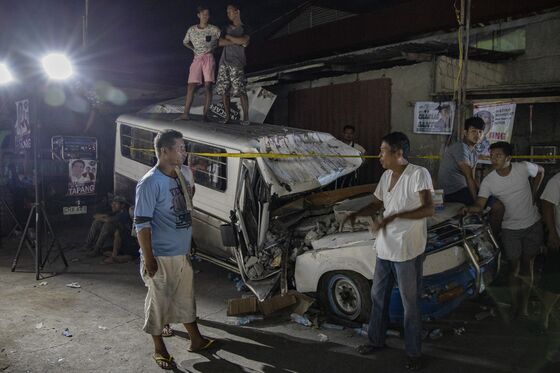 Train lines in Metro Manila halted operations to assess if there's damage, the transport agency said. The Clark Airport in Pampanga was ordered shut for 24 hours after several people were hurt when a portion of the ceiling collapsed. Philippine Airlines Inc. and Cebu Air Inc. canceled flights to and from Clark.
The Senate suspended work for Tuesday until further notice after its building sustained cracks, ABS-CBN reported citing Senator Ralph Recto. Several schools will also be shut.
Videos of buildings shaking made the rounds on social media, including these:
Thousands of people lined the major streets of Makati City and other business districts in Pasig and Taguig after many buildings ordered evacuations. Makati is the commercial heart of the Philippines and home to the offices of major corporations and banks.
The Philippine Institute of Volcanology and Seismology said aftershocks and damage were expected. The quake was also felt in Zambales north of the capital, and the southern provinces of Batangas and Cavite, according to the government seismology agency. No tsunami alert was raised after the quake.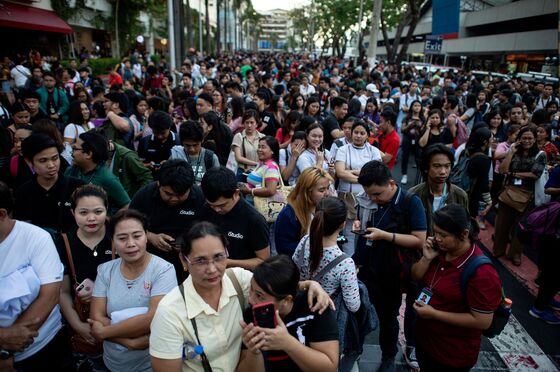 The government's civil defense units and disaster monitoring agency are still gathering data from different regions on the extent of any damage to people and properties, spokesman Edgar Posadas said in a mobile phone message.
Located along the Pacific Ring of Fire, the Philippines is prone to earthquakes and volcanic eruptions. The last major quake hit Cebu and Bohol islands in 2013.