Manhattan's Apartment Glut Eases as Renters Race to Sign Leases
(Bloomberg) -- Renters returning to Manhattan are signing leases at a record rate, helping to chip away at a mountain of vacant apartments.
The number of available units dropped 38% in June from the previous month to 11,853, according to a report Thursday by appraiser Miller Samuel Inc. and brokerage Douglas Elliman Real Estate. While still elevated from pre-pandemic levels, the inventory has been reduced by more than half since January.
New Yorkers who may have retreated to the suburbs at the height of the pandemic last year are coming back, and they're racing to take advantage of lower rents while they still can. They're agreeing to deals with fewer landlord concessions and longer lease terms.
"The intensity of demand for new leases at lower rates is so high that it is burning up excess inventory very quickly," said Jonathan Miller, president of Miller Samuel. "The market is tightening up from its peak moment of weakness, which was really in the fall through January."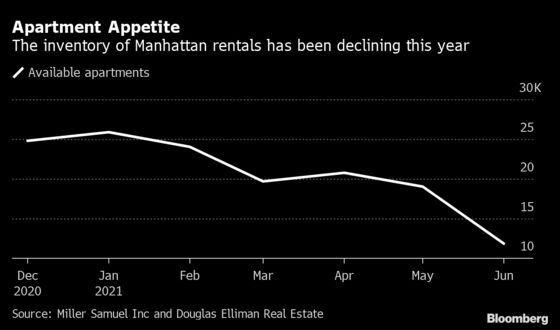 The number of new leases tripled from last June to 9,642 -- the most for any month since the firms started tracking the data in 2008, and a third straight record high. The deals helped bring down the borough's vacancy rate to 6.7%, from 7.6% in May.
Landlords are pulling back on move-in concessions in light of the rising demand. On last month's new leases, the value of sweeteners averaged 1.9 months of rent, the lowest since August. About 38% of agreements had a concession. That's down from the record high of 60%, reached in October.
Tenants are locking in longer leases to take advantage of discounts while they're still here: Average lease lengths have increased each month since January.
With concessions factored in, the median rent last month was $3,109, down 4.1% from a year earlier but 2.4% higher than in May.
The heightened interest in apartments is giving landlords back some of the leverage they lost over the course of the pandemic, when they struggled to fill units even with offers of several months of free rent.
"It's not that landlords are in control," Miller said, "but the relationship between tenants and landlords is nowhere near as lopsided as it was four or five months ago."