Hong Kong Investor Who Exposed `Enigma Network' Sees Another
(Bloomberg) -- His last big warning to investors, about a shadowy group of companies he dubbed the Enigma Network, preceded a $6.1 billion collapse in the stocks and Hong Kong's biggest-ever financial raid.
Now David Webb, the activist investor and resident gadfly of Hong Kong's capital markets, is at it again. His new, if less provocatively named, target: the Huarong-CMB Network.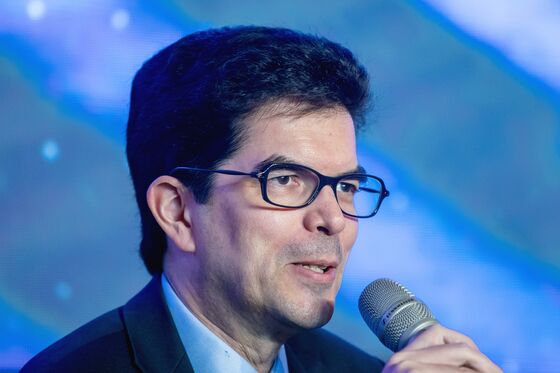 In a post on his website Friday morning, Webb published a list of 26 stocks "not to own" due to links with China Huarong Asset Management Co., the bad-debt management firm whose former chairman is under investigation by Chinese authorities.
The list centers around China Huarong and China Minsheng Banking Corp., two companies that helped finance a "complex web of dealings" in 24 other publicly traded firms, Webb wrote. Huarong's former chairman Lai Xiaomin was expelled from China's Communist Party for violations including bribery and squandering state assets.
"My clients sold all these stocks this morning," said Banny Lam, head of research at CEB International Investment Corp. Many of the firms Webb named have stakes in and lend to each other, and there's concern the list will draw more regulatory attention to these companies, he said by phone.
Almost all the stocks identified as being part of the network fell in Hong Kong trading after the report was published. China Huarong dropped as much as 4.1 percent before paring losses to close down 0.7 percent. China Minsheng ended 0.2 percent lower, construction firm Huarong Investment Stock Corp. plunged 12 percent and China Soft Power Technology Holdings Ltd. slid 10 percent. Chong Sing Holdings FinTech Group Ltd. lost 9.2 percent.
A spokeswoman for money lending firm Chong Sing, which was targeted in September by short-seller Bonitas Research, declined to comment. Other companies Webb identified included casino operator Landing International Development Ltd., whose chairman was arrested in August in Cambodia in relation to a corruption investigation, Chinese media reported at the time. Its shares were little changed Friday. None of the firms immediately replied to requests for comment.
Webb's earlier sleuthing led him to write in May 2017 about links between some 50 companies that he dubbed the Enigma Network. Shares in many of the firms named in that report fell in the ensuing days, and tumbled further in the following month, some by more than 90 percent. Several stocks remain suspended amid an investigation by Hong Kong authorities.
All of the 26 companies named in the latest report are listed in Hong Kong, where the market for smaller companies has long been marked by extreme volatility. Tightly controlled and easily manipulated shares remain a concern for the Securities and Futures Commission and Hong Kong Exchanges & Clearing Ltd., which have made a series of rule changes to curb bad behavior.