Man Group Warns Archegos Collapse May Winnow Prime Brokers
(Bloomberg) -- Man Group Plc is concerned that the collapse of Archegos Capital Management may drive some banks to abandon the business of servicing hedge funds, handing the biggest Wall Street firms even more power over their trading clients.
The implosion last month of Bill Hwang's family office is almost sure to winnow the ranks of dealers in prime brokerage and clearing, Sandy Rattray, chief investment officer at the world's largest publicly listed hedge fund manager, said Tuesday in an interview on Bloomberg Television.
"It almost inevitably means that you will get a strengthening of the strong and a weakening of the weak" said Rattray, who oversees $127 billion in assets at Man Group in London. "We certainly don't like the idea that there are less firms we can deal with."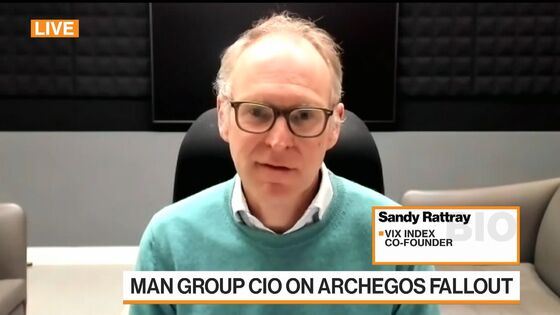 Already, the two banks that suffered the largest losses from the Archegos blowup, Credit Suisse Group AG and Nomura Holdings Inc., are tightening hedge fund financing. Credit Suisse replaced the co-heads of its prime-brokerage business and forced out several more-senior executives, including the chief risk officer and head of investment banking. Nomura is considering a broader pullback in prime brokerage.
Rattray said less competition may result in clients such as Man Group paying more for trading services. As a risk manager, he prefers to spread the firm's business across a swath of banks in case any one should run into trouble.
"You want to have multiple counterparties for everything you do, so having more is always better," he said. "I don't think it's at a dangerous tipping point, but we've been in a one-way move for the last 10 to 15 years of just less, especially prime brokers."
Prime brokers provide a wide range of specialty services to hedge funds and family offices, such as stock lending, financial leverage and trade settlement. When Archegos collapsed the week of March 22, a number of banks had to unwind large positions in a handful of stocks.
Goldman Sachs Group Inc., Deutsche Bank AG and Wells Fargo & Co. were able to escape the sell-off unscathed. Credit Suisse, Nomura, Morgan Stanley and Mitsubishi UFJ Financial Group Inc. collectively lost almost $8 billion.