Mali Coup Leader Sworn in as Interim President
(Bloomberg) -- Malian coup leader Assimi Goita was sworn in as the West African nation's interim president on Monday, even as he sought to quell fears that he would cling to power beyond an agreed transitional period.
The 38-year-old military officer, who took the oath of office at a ceremony in the capital, Bamako, is expected to lead the country until presidential elections are held in February.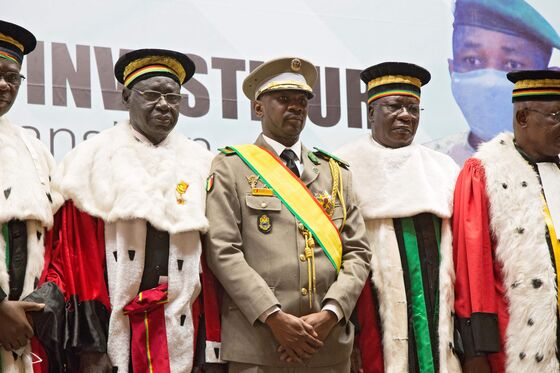 One of his first acts as president was to name Choguel Maiga, an opposition leader and former trade minister as the country's new prime minister, according to a decree read on the state television ORTM Monday. Maiga is expected to name a government in the coming days and help oversee what's left of the transition period set to end after February elections.
The swift nomination of a civilian prime minister may address concerns raised by Western partners such as France and the U.S., which both announced the suspension of all military cooperation with Mali last week. The World Bank is also halting disbursements to the country following the country's second coup in nine months.
The international community is largely taking a cue from the Economic Community of West African States, a regional bloc that's led mediation efforts to help restore democratic rule in its member-country since former Malian President Ibrahim Boubacar Keita was deposed in an Aug. 18 coup.
Mali, the fourth-biggest gold producer in Africa, is seen as a linchpin in the fight against Islamist insurgents who have threatened state authority and investors' interests in West Africa's Sahel region, at the southern fringe of the Sahara desert.