Malaysia Widens Budget Deficit Target, Seeks to Lure Investment
(Bloomberg) -- Malaysia widened its budget deficit target for next year, giving the government space to support growth as it seeks to lure foreign investment amid the U.S.-China trade war.
Finance Minister Lim Guan Eng revised the 2020 deficit goal to 3.2% of gross domestic product from 3% previously, projecting a decline in revenue next year. All 10 economists in a Bloomberg survey predicted the new fiscal target.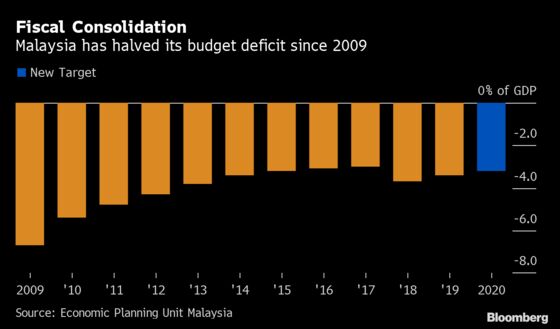 Even with the upward revision, the deficit is seen narrowing from this year's expected 3.4%. Lim pledged to bring the fiscal gap down to 2.8% of GDP in the medium term.
As the trade war forces companies to re-evaluate their China footprint, Lim said Malaysia can take advantage to woo overseas investment. The government will give incentives to firms -- including a 10-year tax break for the electronics sector -- provide special perks for Fortune 500 companies and may create a special channel for investment from China, Lim said.
"The protracted trade war creates a unique opportunity for Malaysia to again be the preferred destination for high value-added foreign direct investments," the minister said. Foreign direct investment into Malaysia surged 97% in the first half of 2019 from the same period a year earlier, he said.
The benchmark FTSE Bursa Malaysia KLCI Index added to its gains after Lim started speaking and closed up 0.3%, the most since Oct. 1. The ringgit rose 0.1% to 4.1865 per dollar.
The government expects Malaysia's economy to grow 4.8% in 2020, up from a revised estimate of 4.7% this year. The central bank had forecast growth of 4.3%-4.8% for this year.
Lim is slowly raising some spending after slashing expenditure this year to rein in ballooning debt worsened by the 1MDB state investment-fund scandal. He's planning to increase development spending for transport, energy and utilities as well as trade and industry, while reducing the state's operating expenditures. Lim added that the government is ready with contingency steps to support growth if needed.
Analysts said the wider deficit target wasn't reason for concern.
"Widening of the budget deficit to 3.2% is nothing to lose sleep over given that it has only stretched, not derailed, fiscal consolidation goals," said Vishnu Varathan, head of economics and strategy at Mizuho Bank Ltd. in Singapore. "With the uncertainties from the U.S.-China trade conflict, it will be misguided to obsess over belt-tightening."
The wider deficit target comes on the back of a 7.1% drop in revenue to 244.5 billion ringgit ($58 billion) next year. State oil firm Petroliam Nasional Bhd., known as Petronas, is expected to cut its dividend payout to 24 billion ringgit next year, after doubling its contributions this year to help with state revenue.
Not everyone was so sanguine.
"While the headline figures point to a modest loosening, fiscal policy is likely to act as a major drag on growth next year," Capital Economics senior Asia economist Gareth Leather wrote in a research note that predicted GDP growth of just 4.0% in 2020. "The fiscal drag, combined with slowing consumer spending and weakening exports, means growth is likely to slow sharply."
Lim said the government had no intention to reintroduce a Goods and Services Tax, reiterating recent comments from Prime Minister Mahathir Mohamad. Mahathir scrapped the tax in June 2018, fulfilling a campaign pledge but putting state revenues under pressure. The government is promising more subsidies and social assistance as part of Mahathir's election pledge to lower living costs.
Here are some key details from the speech and various budget documents released Friday:
10-year, 70% income-tax break for solar sector, tax breaks for green tech
Tax break for Sukuk issuance, task force for Islamic finance
250 million ringgit to improve rural connectivity, 50 million ringgit for 5G ecosystem, 500 million ringgit guarantee for women entrepreneurs, 550 million ringgit for automation
Transport allocation up 8.8% to 12.2 billion ringgit to fund projects such as the Kuala Lumpur mass rapid transit project and Pan Borneo Highway
State operating spending cut by 8.1%, mostly from asset acquisitions and other expenditure, while supplies and services to cost 28% more
Subsidies and social assistance will rise 2.6% to 24.2 billion ringgit due to cash hand outs and welfare assistance, fuel and agriculture related subsidies, toll compensation and education-related assistance
Government sees inflation picking up next year to 2%, after remaining at 1.5% or below so far this year
Monetary policy is set to remain accommodative and supportive of growth in 2020
The government will "leave no stone unturned" to recover stolen funds and assets from around the world; as of July, international authorities had returned about 1.45 billion ringgit
Restitution efforts include "pursuing Goldman Sachs as well as their 17 directors for their complicity in the 1MDB scandal"
Government will add 100 people to its anti-graft agency next year