Malaysia Will Charge Ex-Premier's Wife With Money Laundering
(Bloomberg) -- Malaysian prosecutors will charge the wife of former Prime Minister Najib Razak with money laundering on Thursday, three weeks after he faced new allegations linked to troubled state fund 1MDB.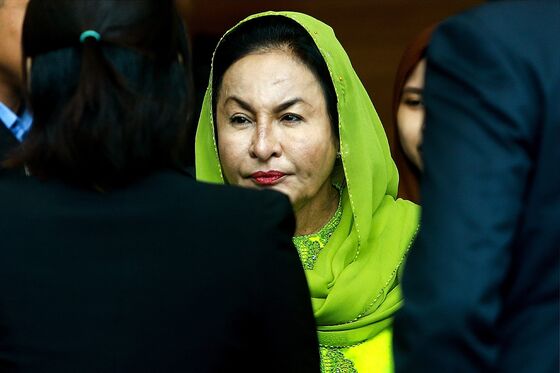 Rosmah Mansor was taken into custody on Wednesday afternoon after a round of questioning by the Malaysian Anti-Corruption Commission, Deputy Chief Commissioner Azam Baki said by text message. He declined to say if the allegations are related to 1MDB, also known as 1Malaysia Development Bhd.
Malaysia's revived investigation into 1MDB has centered around Najib who has denied the charges leveled against him. The upcoming allegations would be a first for Rosmah, who has been investigated in relation to the 1.1 billion ringgit ($266 million) worth of cash and items seized from her family's home, including a 6.4 million ringgit diamond necklace and 51.3 million ringgit worth of Hermes bags.
The challenge for Prime Minister Mahathir Mohamad, who returned to power in May on a campaign to get to the bottom of the globe-spanning scandal surrounding 1MDB, is to ensure the probe doesn't become a "politically motivated" move, as his one-time protege Najib contends.
Malaysian investigators have questioned former 1MDB President Arul Kanda, after laying charges in absentia against financier Low Taek Jho. Authorities are working on "private efforts" to bring Low -- painted by U.S. prosecutors as the mastermind behind embezzlement at 1MDB -- back to Malaysia from China, Mahathir was cited by the Star newspaper as saying this week.
The police have also expanded their probe to look into the state fund's bond sales as well as mergers and acquisition deals, which brings in names they identified as PetroSaudi, Aabar, Tanjong and Genting into the case files.
Last month, Najib was presented with 25 charges linked to more 2 billion ringgit of funds, a significant jump from the 42 million ringgit that became the basis of previous allegations laid against him in August and July. He has pleaded not guilty to all the accusations and is preparing his defense ahead of his trial that's set for February.