Malaysia Tax-Free Period to Boost Third-Quarter Earnings Growth
(Bloomberg) -- Earnings for Malaysian companies will show growth, thanks to the tax-free period that firms enjoyed after the newly elected government replaced the goods and services levy with one on sales and services.
The season, which began with results from Public Bank Bhd. on Thursday, is expected to benefit from higher spending as taxes were dropped for most of the September quarter, according to Areca Capital Sdn and Fortress Capital Asset Management Sdn. The new sales and services tax was imposed at the start of last month after the GST was scrapped June 1.
"Third-quarter earnings will be the best quarter this year due to tax-free period boosting consumption, sales and loan growth," Danny Wong, chief executive officer at Areca Capital Sdn., said by phone from Kuala Lumpur. Auto, lenders, exporters and consumer companies would report earnings growth year-on-year, he said.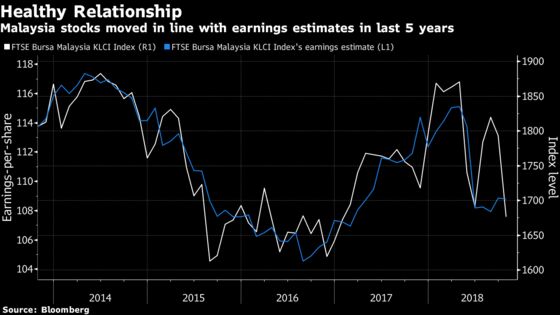 The 12-month forward earnings estimates for the benchmark FTSE Bursa Malaysia Index haven't dropped since the end of the June quarter, compared with the three percent fall in those of the MSCI Emerging Market Asia Index, according to Bloomberg data.
To be sure, the robust earnings season will be hard to repeat, said Geoffrey Ng, director at Fortress Capital Asset Management Sdn. Profit outlook for the coming year will depend on the spending outlay unveiled in federal budget next week, he said.
Investors are looking forward to Finance Minister Lim Guan Eng's plan to shore up revenue in his 2019 budget speech on Nov. 2 to assess the outlook for earnings. The government has pared its economic expansion target and abandoned a plan to balance its finances by 2020 to address income inequality amid struggles to rein in debt.