Malaysia's Stock Investors Brace for Volatility as Budget Looms
(Bloomberg) -- Five months after the surprise election win by Prime Minister Mahathir Mohamad, investors in Malaysia's stock market may finally be coming to grips that there will be more pain before any gain in the months ahead.
Volatility in Malaysian stocks jumped to its highest since July and the FTSE Bursa Malaysia KLCI Index plunged 2.2 percent Wednesday after Mahathir said at an Oct. 9 forum that the government will devise new taxes soon to shore up a state budget that's been constrained by debt and changes to the consumption levy.
"There's some uncertainty around policy changes from the government that can lead the market to be volatile in the near term," said Ivy Ng Lee Fang, head of Malaysia research at CIMB Investment Bank Bhd. in Kuala Lumpur. "These are not new as the government has given the same guidance before," she said.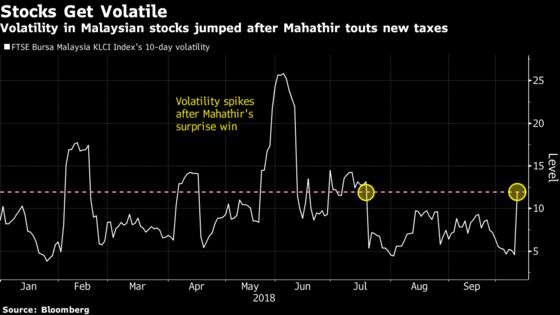 More than 1,200 bankers and investors from at least ten countries filled the 'Malaysia: A New Dawn' forum in Kuala Lumpur on Tuesday to gain clarity on the government's plans. The crowd flowed beyond doorways, and many were left standing due to insufficient seats during the morning address by Mahathir, Finance Minister Lim Guan Eng, and Bank Negara Governor Nor Shamsiah Mohd Yunus. The sessions that followed, hosted by ministers and industry leaders, were equally crammed, forcing staff to bar entry to latecomers.
Investors sentiment may have been "dampened" after Mahathir and some ministers from his cabinet "met the investment community yesterday," said Bernard Ching, head of Malaysia research at AllianceDBS Research Sdn. "The message that got across to the investment community is not to expect any goodies," he said.
Malaysia's benchmark index fell into a correction in June as foreign investors fled the nation's market after a surprise win by Mahathir in May. Foreign outflows have hit $2.2 billion this year after stock flows turned negative shortly following Mahathir's election win, according to data compiled by Bloomberg.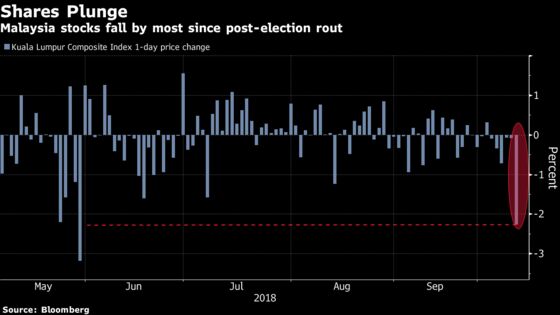 What's next for investors? The government's 2019 budget on Nov. 2 may provide a more concrete and definitive idea of what the market should expect. The new tax measures will be announced as part of the budget speech, Finance Minister Lim said at the forum.
That budget "will have significant implications for the market, given fiscal constraints and the ideas being floated on new sources of revenue," RHB Research Institute analyst Alexander Chia said in a note.
Mahathir will also unveil new social economic policies on Oct. 18 when he tables the mid-term review of the 11th Malaysia Plan for development. Some investors may be staying on the sidelines and holding cash ahead of that announcement, amid rising political uncertainties and the government's plans to introduce new taxes, said Margaret Yang, a strategist at CMC Markets Singapore Pte.
Tony Pua, political secretary to the Finance Minister, told Bloomberg that the stock market is currently "adjusting and reprioritizing." Wednesday's plunge is temporary and the market will recover soon, he added.
"It's unclear how low the market can go," said AllianceDBS Research's Ching. "All I can say is that the market will enter a period of uncertainty until the budget 2019 announcement."
For some, now may the time to stay cautious. "Less spending from the government and higher taxes from the private sector is getting discounted in the markets," said Geoffrey Ng, director of Fortress Capital Asset Management Sdn. "Some investors will take money off the table and some will delay fresh investments."