Najib Faces Bribery Charges Linked to 1MDB Bond, M&A Deals
(Bloomberg) -- Former Malaysian premier Najib Razak plans to defend himself against charges linked to 1MDB's multibillion-dollar bond sales and acquisitions, as authorities speed up efforts to prosecute those who had allegedly embezzled from the state fund.
The charges accused Najib of receiving 2.08 billion ringgit ($503 million) of bribes related to the issuance of a letter of support by the government for $3 billion of 1MDB bonds in 2013. He's also accused of getting 49.9 million ringgit in relation to a $975 million loan facility from Deutsche Bank AG.
In total, Najib was presented with 25 new charges on Thursday comprising 21 counts of receiving, using and transferring illicit funds, as well as four counts of corruption. He has pleaded not guilty in earlier arraignments linked to the receipt of a separate 42 million ringgit from a former 1MDB unit, as well as to accusations of money laundering and abuse of power.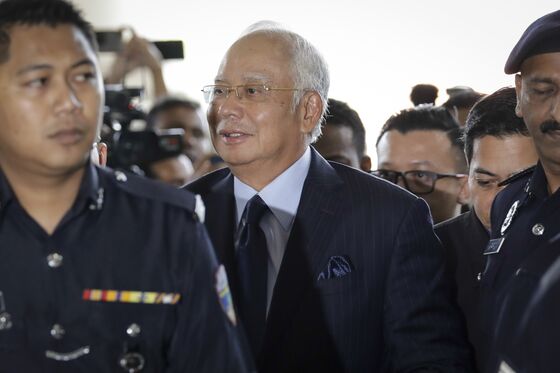 1MDB is at the center of a global scandal involving claims of embezzlement and money laundering, which have also triggered investigations in the U.S., Singapore, Switzerland and other countries. Malaysian investigators are increasingly moving their sights overseas to advance probes, and the government has sought cooperation from other countries to repatriate monies and assets that it said were purchased with 1MDB money.
Prime Minister Mahathir Mohamad seeks to recoup $4.5 billion potentially lost through the state fund as Malaysia grapples with debt and liabilities worsened by state guarantees on 1MDB debt.
"This case may be harder to make as it involves international fund transfers that could lengthen the time line," said Khor Yu Leng, an independent economist with Segi Enam Advisors Pte. "Perhaps this announcement will assuage public demand for action on the full amount, but it is tougher and more uncertain. There's a long list of alleged recipients including many politicians and others. This could trigger a lot of other charges."
Here are a few of the charges presented against Najib on Thursday:
He allegedly received 90.9 million ringgit linked to 1MDB deals, including:

Joint venture with PetroSaudi International Ltd. costing $1 billion and subsequent 1 billion ringgit investment in the JV
10.6 billion ringgit bid for Tanjong Energy Holdings Sdn.
2.75 billion ringgit purchase of Syarikat Mastika Lagenda Sdn. shares

He allegedly received 60.6 million ringgit gratification for approving a state guarantee on 5 billion ringgit of Islamic notes sold by Terengganu Investment Authority Bhd., the precursor to 1MDB
He allegedly received funds from illegal activities involving a total of 2.08 billion ringgit from Tanore Finance Corp.'s account at Falcon Private Bank in Singapore
He's accused of money laundering in relation to a total of 2.2 billion ringgit of fund transfers to Tanore's account at Falcon
He allegedly used funds from illegal activities involving 20 million ringgit paid to United Malays National Organisation, the largest opposition party, as well as 100,000 ringgit to UMNO's Batu Kawan division
He allegedly spent illicit funds, including 303,000 ringgit sent to Semarak Konsortium Satu Sdn., 2 million ringgit to ORB Solutions Sdn., and 246,000 ringgit sent to Lim Soon Peng
"I am not a thief," Najib said to reporters after he was released on 3.5 million ringgit bail. "Whatever becomes the verdict, my hope is that it ensures the rule of law is truly upheld in this country."
The Malaysian Anti-Corruption Commission won't deny that there will be other charges laid against more people in the 1MDB case, Deputy Chief Commissioner Azam Baki said to reporters after the court proceeding. He won't deny that Najib's wife Rosmah Mansor could be charged as part of the probe.
Najib's lawyer Mohd Shafee Abdullah is also facing several allegations of money laundering and false income declaration linked to the receipt of 9.5 million ringgit from him. Shafee has been a long-time lawyer for the opposition Barisan Nasional coalition, which ruled the country for more than 60 years before being toppled by the current government in May.
Malaysia has also laid money laundering charges on Low Taek Jho, painted by authorities at home and overseas as a central figure in the 1MDB scandal. Low proclaimed his innocence on his website launched this week, which describes him as a "global philanthropist, investor and entrepreneur." The police are requesting Interpol's help to arrest Low and his father Low Hock Peng. His whereabouts aren't known.
The Monetary Authority of Singapore seized S$240 million ($175.5 million) of assets in 2016 as part of its probe into 1MDB, whose full name is 1Malaysia Development Bhd. The fund flows that were probed included those linked to Good Star Limited (Seychelles), Aabar Investments PJS Limited (BVI), Aabar Investments PJS Limited (Seychelles), and Tanore Finance Corp. (BVI).
Last week, Malaysian police said they found a total $972 million of transfers to Najib's accounts involving 132 transactions through three channels that they identified as Good Star, Aabar and Tanore. Low has been linked in various probes to the companies.