Malaysia GDP Contraction Slows, But New Curbs Add Pressure
Malaysia's economic contraction slowed at the beginning of 2021, in between surges of Covid-19 cases and tighter restrictions to contain the disease.
Gross domestic product shrank 0.5% in the first quarter from a year earlier, Malaysia's central bank said Tuesday, compared with the 0.9% contraction expected by analysts in a Bloomberg survey. Compared to the previous three months, the economy grew 2.7% on a seasonally adjusted basis, beating expectations for 0.6% growth.
"The economic recovery remains on track," central bank Governor Nor Shamsiah Yunus said in a briefing. "We have said that there will be speed bumps along the way, but we expect growth to remain within the 6% to 7.5%" forecast range for the full year.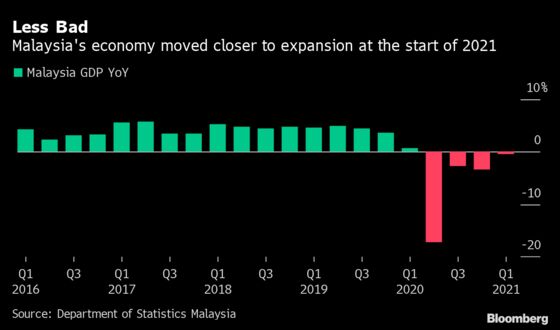 The economic reading comes a day after Prime Minister Muhyiddin Yassin announced nationwide movement restrictions to stem the latest surge in cases. Moving forward, the economy will continue to benefit from strong external demand and improving domestic conditions, Nor Shamsiah said.
Bank Negara Malaysia last week held its benchmark interest rate at a record-low 1.75% for a fifth straight meeting amid the fresh surge in cases. It said risks remain "tilted to the downside," citing uncertainty over the course of the pandemic and potential challenges for the country's vaccine rollout, with the economy returning to pre-Covid levels by the middle of the year.
"It's kind of a two-speed economy," said Mohd Afzanizam Abdul, chief economist for Bank Islam Malaysia Bhd. "The external sector is on course to lead the recovery, while domestically, key sectors such as services-oriented industries would be struggling to record a sustainable recovery."
Malaysia's stock index held declines after the GDP data, down 0.6% at the midday break, while the ringgit was 0.3% weaker at 4.1155 to the dollar as of 12:36 p.m.
What Bloomberg Economics Says...

"The year-on-year contraction in Malaysia's economy in 1Q was not nearly as deep as feared, thanks to the resilience of domestic demand. With Covid-19 mutations being much more infectious and herd immunity through vaccination still a long way off, it may be difficult for household spending to remain so buoyant through extended social distancing measures ahead."

-- Tamara Mast Henderson, Asean economist
Daily cases this month topped 4,000 for the first time since February, and the country is struggling with the pace of vaccinations. Less than 3% of Malaysia's population had completed their vaccination series as of May 8, according to data compiled by Bloomberg. That tally trails neighbors Indonesia and Singapore, and puts Malaysia at risk of falling well short of its vaccination goals for the year.
Containment measures in January cost the economy 700 million ringgit ($170 million) a day, even with essential sectors still operating. Those measures were eased in February.
While all sectors of the economy will stay open under the latest measures, the new curbs could undo recent progress. The manufacturing Purchasing Managers Index hit a record high in April, a month after exports registered the strongest year-on-year growth in almost four years. Manufacturing sales rose at their fastest pace in nearly four years in March, and an index of industrial production gained the most in March since July 2013.
Other points from the briefing:
Inflation will rise to 6.5%-7% in the second quarter, before falling back below 5% in June. Headline inflation for the year will average 2.5%-4%
All sectors of the economy improved in the first quarter. Manufacturing rose 6.6% year-on-year, while agriculture was up 0.4%
The country registered a current-account surplus of 3.3% of GDP, due to improvement in imports and a pickup in domestic demand
Net FDI inflows rose to 9.1 billion ringgit ($2.21 billion) in the first quarter