Najib Fighting for Freedom After Arrest in Malaysia 1MDB Probe
(Bloomberg) -- Less than two months after losing power in a shocking election defeat, former Malaysian leader Najib Razak is now facing a legal battle against charges that could see him facing jail.
Authorities arrested Najib on Tuesday in connection with an investigation into the disappearance of billions of dollars from state fund 1MDB, according to the task force investigating the case. He would be charged at 8:30 a.m. on Wednesday in Kuala Lumpur, it said in a statement, without providing further details. Bernama News Agency reported he could face more than 10 counts of committing criminal breach of trust, citing a source.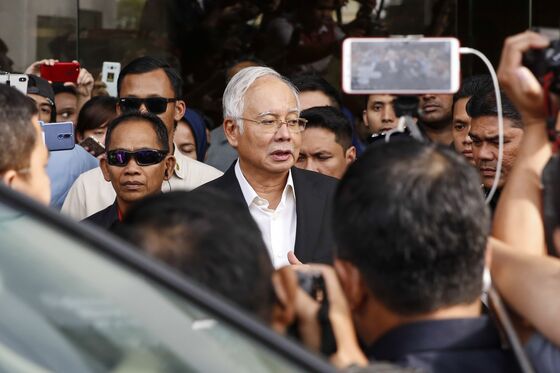 Najib was detained overnight at the headquarters of the Malaysian Anti-Corruption Commission in Putrajaya, according to an official. Authorities had earlier banned him from leaving the country.
In a video posted on Najib's official Twitter account on Tuesday night, he apologized to the nation while saying not all of the accusations against him are true and that he'd defend himself. The caption said: "I accept that today is the day my family and I face the world's tribulation."
The arrest is the latest chapter in a stunning downfall for Najib, the son of a former prime minister who first joined parliament at the age of 23 and subsequently rose to become Malaysia's most powerful person. The 1MDB scandal galvanized an opposition led by his former mentor Mahathir Mohamad, who at the age of 92 rallied a disparate coalition to oust Najib from office.
"For Dr Mahathir, this is not just about winning the case but he also needs to show that his government is able to establish that Najib is guilty as charged and that these are not drummed up political charges," said Eugene Tan, associate law professor at Singapore Management University. "Najib is not going to take this lying down. This will be the fight of his life with his liberty at stake."
Shortly after taking office, Mahathir revived a probe into the state investment company set up under Najib's watch in a bid to recoup $4.5 billion that went missing, as well as fees paid to Goldman Sachs Group Inc. A parliamentary committee in 2016 identified at least $4.2 billion in irregular transactions by the fund, with the U.S. Department of Justice saying some cash was used to purchase a 300-foot yacht, luxury homes, artwork, and stakes in several Hollywood films, including "The Wolf of Wall Street."
The scandal had cast a cloud over doing business in Malaysia and unnerved investors. Markets were spooked by the May 23 disclosure that government debt and liabilities had jumped to 1.087 trillion ringgit ($268.4 billion), inflated by state guarantees for borrowing at 1MDB. The ringgit slid to a six-month low and overseas ownership of the nation's bonds dropped to the lowest since August. The challenge now for Mahathir is to make good on his promises to root out the corruption he said is rife in many government departments.
Malaysia's police last week said they had seized about $273 million of items in raids linked to Najib. They included stacks of cash, Hermes International handbags, Rolex watches, a diamond necklace and more than 200 pairs of designer sunglasses.
The arrest on Tuesday was made in connection with SRC International Sdn., according to a statement from the task force. SRC International was a former unit of 1Malaysia Development Bhd. Bernama reported in May that investigators had asked Najib about an unspecified amount of funds he had received from the company.
In January 2016, former Attorney-General Mohamed Apandi Ali had cleared Najib of wrongdoing in connection with SRC, saying there was no evidence he knew that money from the company was transferred into his personal accounts. Meanwhile, Swiss investigators said in October 2016 that some $800 million in natural-resource investments from SRC International appeared to have been misappropriated, hidden in part through the creation of a Ponzi scheme.
Najib's supporters rallied to his defense on Tuesday. The women's wing of Najib's party, the United Malays National Organisation, called for a "transparent and fair" trial and said its members would hold special prayers for him.
"The trial should be a fair but speedy one for the sake of closing a sad chapter in the nation's history," said Oh Ei Sun, senior adviser for international affairs at the Asian Strategy and Leadership Institute in Kuala Lumpur. "But I think it will be drawn out as Najib has put together a stellar legal team."