Malaysian Stocks Shrug Off Lockdown Extension Amid Bargain Hunt
(Bloomberg) -- Malaysian stocks climbed for the first time in four days led by a rebound in glove makers and telecom firms as investors shrugged off the government's move to extend a nationwide lockdown by two weeks.
Top Glove Corp. jumped as much as 7.8% after its American depositary receipt soared 69% on Friday. Mobile phone stocks DiGi.Com Bhd. and Maxis Bhd. each added more than 1%. The FTSE Bursa Malaysia KLCI Index gained 0.7% as some investors looked past the lockdown with the benchmark index trading near the lowest level in more than a year.
The market has been "trending down the past few months, where it has attracted some bargain hunters," said Areca Capital Sdn. Chief Executive Officer Danny Wong. "I remain positive on the Malaysia market with the recovery of earnings and business confidence once the vaccination is carried out more effectively in the next few months."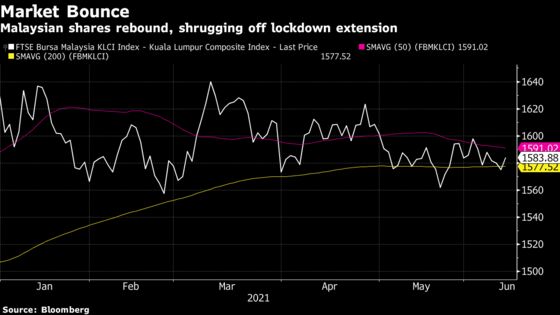 The Southeast Asian nation's stock benchmark has fallen almost 6% from its December low amid concern over the government's handling of the pandemic and rising political risks. Malaysia on Friday extended the curbs as daily infections remained elevated. The country returned to a hard lockdown this month after new cases topped a record 9,000 by end-May.
The first phase of the lockdown, which was due to end on June 14, will continue until June 28, Defense Minister Ismail Sabri Yaakob said in a statement on Friday. Only essential sectors can operate under the renewed restrictions, while movement has been restricted to a 10-kilometer (6.2 mile) radius.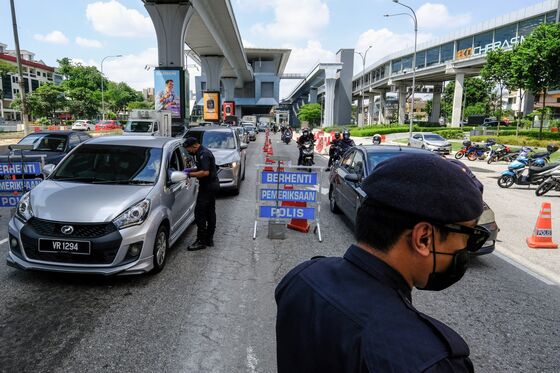 The ringgit declined from the highest in more than a month, falling 0.1% to 4.1143 per dollar.
"The extension of the restrictions may weigh on the MYR in the near term, though the impact is temporary," says Qi Gao, a currency strategist at Scotiabank in Singapore.
The nation's infection rate has fallen since the measures took effect on June 1, remaining below 1.0 as of Thursday, official data show. Still, cases remain above the 4,000 daily threshold set by the government to end the lockdown, Health Minister Adam Baba said Tuesday. The country reported 5,304 new infections on Sunday.
Malaysia's royal leaders are set to convene on June 16 to discuss the measures taken to tackle the outbreak. This is after the king summoned party leaders individually amid public anger over the government's handling of the pandemic.
When announcing the lockdown on May 29, Prime Minister Muhyiddin Yassin said the government plans to re-open economic sectors that don't involve large crowds if infections dropped after two weeks. This so-called second phase of the lockdown was to last for four weeks.